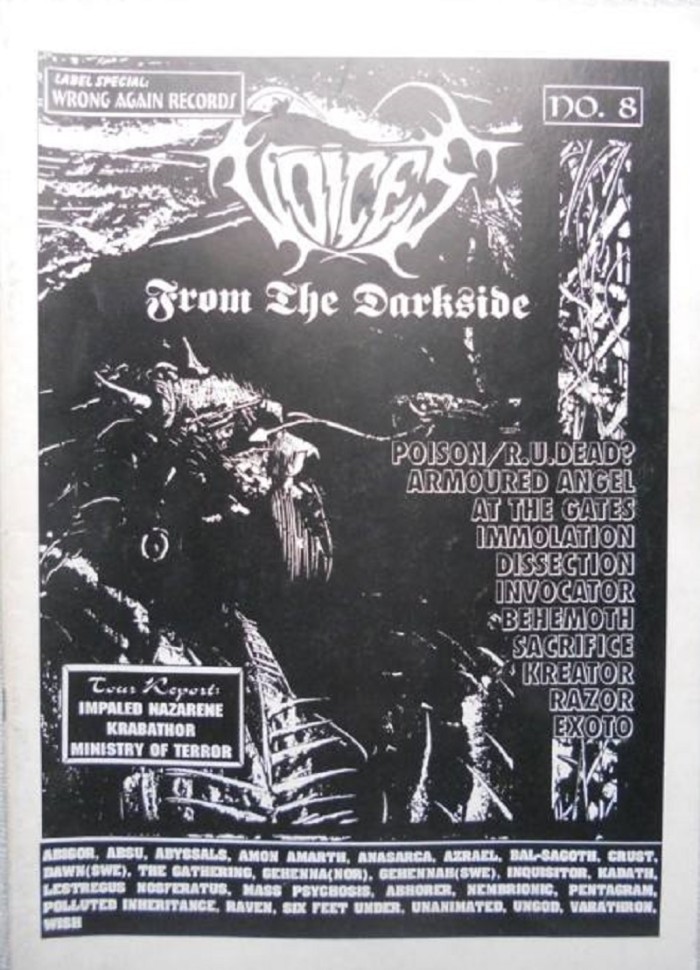 Many of you know Frank Stöver from his days editing the classic death metal fanzine Voices from the Darkside, but many more have come to know him through his website of the same time. Having read his material for years, this writer jumped on the chance to ask him a few questions about what he does and how he keeps putting out high-quality material after all these years…
What do you look for in a metal band that makes them appealing to you? How important is imagery, packaging and production?
First and foremost it's of course the music that I will have to enjoy, but to me that sometimes goes hand in hand with the band's imagery or packaging as well. I often experience that bands that are really dedicated to what they're doing come up with a better visual side as well, because they really know how they would like to present themselves. But a band with a shitty xeroxed cover and a poor looking logo can of course also be killer musically.
Since I've been involved in the tape-trading era myself I'm still used to poor sounding rehearsal- and live-tapes, so production definitely isn't that important in the first place to discover great bands. Just remember the early Mantas/Death recordings… But then again killer songs could be even more killer with a fitting and crushing production of course, as long as the production really fits the band.
When you prepare to interview a band, how do you prepare? How much of this is research? How much of it is listening to their demos/albums?
Since I only interview bands that I personally really like it's almost exclusively research. I do read a lot of reviews and other interviews, check out their discography, member changes etc. I ask questions that I personally would like to get answers for and hope that the readers find that of interest as well.
In one of your past interviews, you mention a zine as being "narrowminded" in a positive way. Is it important to be narrow-minded? Or is that a term for being open-minded and then making your mind up? Does death metal risk infiltration by imitators, poseurs, fakers, etc.?
Good question… I wouldn't say it's important, it's just a matter of your personal tastes. Even though I'm musically totally open-minded, I still prefer zines that stick to certain styles exclusively. Otherwise I could also pick up one of the colored major magazines that are being sold at shops and supermarkets every month. Same with music itself. I have a lot of respect for bands that try to break boundaries by mixing new elements into established styles.
I ask questions that I personally would like to get answers for and hope that the readers find that of interest as well.
But when I'm in the mood for some brutal Death Metal, I don't wanna hear that combined with clean vocals, a funky bass or whatever. Considering the fact that there's constantly so much new music out, it also makes it a bit easier to select releases / bands for a zine. You gotta draw a line somewhere, otherwise you would have to feature 4251166898089090 and more releases every month.
You were manager for Kreator and Destruction back in the day. Why do you think Germany led the world in their kind of speed/death hybrid, but was less participatory in death metal as a complete genre?
Well, I just helped out Kreator a little bit with merchandise and fan club activities, I never managed them… But to answer your actual question: I can only guess. Maybe it's because all the younger bands in Germany at the time simply looked up to the bands that had already become bigger (Destruction, Sodom, Kreator, etc.) and felt musically inspired by them. And since all of them are rooted in thrash metal, it probably resulted in a pretty healthy thrash scene. If Morgoth would've been one of our first extreme bands in those days maybe everything would've developed in a different direction, who knows…
Why do you think 1980s bands were so varied, and bands now sound more similar? Is the "market" flooded? How can metal recover from this? Or is it just harder to come up with something new, because everything has "been done"? Or is style less important, and content what drives uniqueness in bands?
I think you pretty much answered this yourself already. The number of bands simply exploded over the years, and almost everything has already been done in one way or another, so there's not much room left anymore for fresh, unique bands that still deliver brutal music.
Back in the day everything was still fresh and new, so whenever a new band appeared on the scene, it still sounded a little different to the already more established names. I think something like that is almost impossible nowadays. I hardly find enough time to listen to all the new releases I receive every week, so I'm glad that I don't have to write music in a band that tries to make it.
Why did you switch from print to internet-only distribution of your writings? Are you able to reach the same audience? Did you gain more readers? What are the advantages from print that you miss, and what does online do better?
That's an easy one: lack of time and money were the main reasons not to continue on with the printed version of the zine. The advantages are obvious: you can easily update a site on a daily base if you like, while a printed zine always takes a lot of time until it's finished and distributed. It's easier, because you don't have to do layouts, ship the finished magazines, deal with printing companies and the postal service and as a result you also safe a lot of money, which you usually spend on postage and printing.
The number of readers has exploded ever since we went online. Our last issue (# 10) was printed in 1,000 copies; with our website we have approximately 2,000 – 2,500 visitors each day nowadays. But of course I miss the print era. I just love the cut and paste type old school layouts… and reading stuff where ever I like is probably the biggest plus (reading in front of a monitor screen is really annoying).
Is it hard to get volunteers to work with? Is apathy a problem in the metal community?
Never really had any problems in that department at all. But maybe it's that easy because Voices From The Darkside is already an established name that people are aware of and respect. So, whoever I work with (or have worked with in the past) is first of all a fan of the music and the zine. I guess that makes it a lot easier.
How did fanzines help shape the metal underground? Did this change from your days in Horror Infernal to when you started Voices from the Darkside in 1993? Do you think fanzines played a role in shaping what people liked, and made some bands into "favorites"? If so, was this good or bad?
Without fanzines there probably would be no underground, at least not in the way we know it. I don't think it changed in any way. Fanzines have been around for ages and I received some of them already back when I started out in the early 80s. I personally found out about a lot of amazing bands through fanzines, flyers and tape-trading.
If a band is honest in what they do and they don't sell out or change in order to reach a bigger audience, they deserve to get noticed by bigger crowds for sure.
I suppose without this great network, I probably wouldn't have discovered a lot of the bands this early. A good example is Metallica. I got a live show from 1982 on tape very early on, even before I got to hear their demos and that made me follow them right from the start, which was really exciting.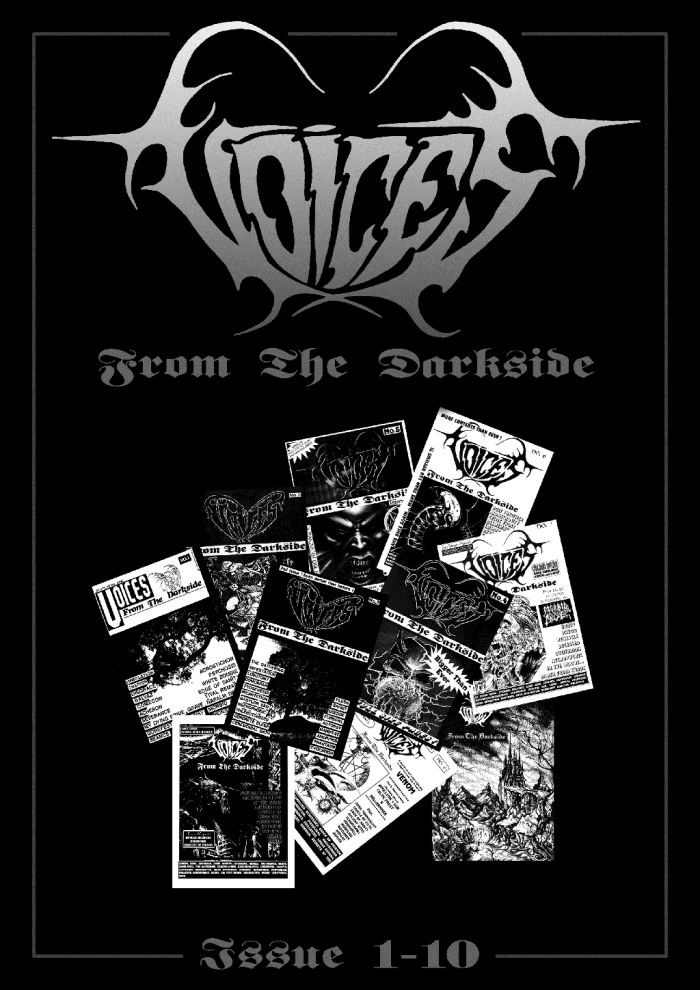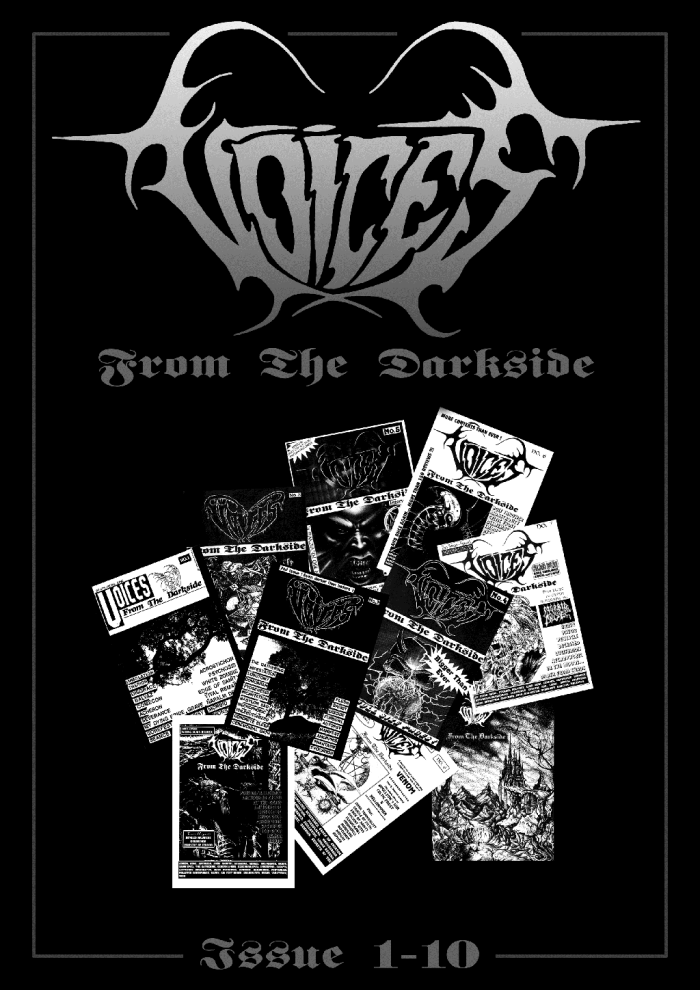 Should underground metal stay underground? Is this even possible?
No, I don't think so. If a band is honest in what they do and they don't sell out or change in order to reach a bigger audience, they deserve to get noticed by bigger crowds for sure. Of course it's always a bitter feeling for the fans of day one to see that all of a sudden people like "their" bands, who probably don't know anything about them, their roots or anything. But that doesn't mean the newer fans are less dedicated. Some of them often turn into total diehards as well, they just discovered the band later.
The German scene is fascinating to me. From thousands of kilometers away, it looks as if German fans are fans first of heavy metal as a whole, not specialized into death metal, black metal, etc. Does this have some benefits? What about downsides?
Yeah, Germany is really a cool place for metal and all its sub-genres. The scene is very healthy with lots of venues, bands, magazines, etc. That's probably also one of the reasons why big festivals such as Wacken work out so well. Metal fans are often more open-minded than one might think. They don't have a problem with having their Terrorizer record next to a Thin Lizzy record in their collection (at least I don't have). I don't think that has a downside to it at all.
I wrote about how hacking was a parallel community to underground metal found similarities between the two. Do you think the metal underground had a lot in common with other undergrounds? What made it "underground," in the first place? Was it only lack of commercial acceptance, or also of social acceptance?
I often compare the metal underground with the early punk movement (before both scenes got commercialized by the industry). This whole DIY mentality with self-organized shows, flyers, cut and paste fanzines etc. most certainly had a big influence on the origin of the metal underground. Also this "fuck off" mentality and trying to rebel against parents, employers or the mainstream is pretty similar. But all this probably makes it scenes on their own. To me being underground means that you're different to the mainstream in certain aspects and you most certainly have that in various other sub-genres as well.
It seems to me that with the rise of the internet, we have information overload. Meaning that there are too many bands, sites, labels, radio/podcasts, etc. to possibly keep track of. Do you think that zines and some websites can be helpful in reducing this overload? Is that a positive goal? Can websites achieve the same effect that zines did?
I totally agree… and to be perfectly honest with you: I really hate this overkill! I'm sick and tired of receiving a shitload of download links for new albums every fuckin' day. I mean, who's supposed to listen to all this, not to mention who shall buy all the records? Today there's probably more labels than we had bands in the 80s and each one of them releases as many records as possible. From old poor sounding rehearsal tapes, to compilations, split releases, re-releases, EPs, live albums, full lengths etc.
Today there's probably more labels than we had bands in the 80s and each one of them releases as many records as possible.
The industry always mentions that record sales are going down, but at the same time they are releasing more albums than ever before. Websites such as ours can indeed be helpful by being more selective in what they review and feature in general. And that leads us back to the "narrow-minded" question: if we would be less narrow-minded, Voices From The Darkside would quickly turn into a fulltime job for sure. But luckily most people still care about quality. So, no matter what it is: a record, a band, a label or even a website — if it's of poor quality people will sooner or later search for something better. Since our website is already online for almost 15 years by now with a steady growing number of visitors, I suppose we're doing something right.
You have mentioned in several past interviews that you do not collect rare discs, but are interested in having the complete recordings. Do you think the "collector's mentality" was good for metal? Why do you avoid it, or is this just a practical/personal decision?
I think this "collector's mentality" opened a lot of doors for the just mentioned release overkill. Many metal fans tend to buy their favorite records in every fuckin' re-release format there is. If a label re-releases a record with only one single bonus track or a different packaging some diehards most certainly will spend their hard earned money on it again, no matter how often they already have it in their collection. I don't like that, but somehow I'm infected by that as well.
If I like a band, I try to get their entire material in one way or another. But I don't keep a record in various formats then. I replace the older version with the newer expanded edition. That's equally stupid (if not more), but at least I don't have to spend a shitload of many for rare first press releases, hahaha.
What are your plans for the future with Voices from the Darkside? Do you have any other projects brewing? Ever think of writing a book (of new text, not compilation of the older zines)? If people like your work, how should they stay updated on what you do?
The website already keeps me extremely busy since I take care of all the daily updates myself. Every single review and interview that ends up on the site is being formatted, proof-read etc. by yours truly. And I also compile all the news, tour dates and so on. All that takes a lot of time every single day, so no – I don't have any other projects in the pipeline at the moment, I'm afraid. All I can offer at the moment can be found at www.voicesfromthedarkside.de. Thanks a lot Brett, for this highly interesting interview and your support! All the best!
5 Comments
Tags: death metal, frank stöver, metal writers, metal zines, voices from the dark side, zines