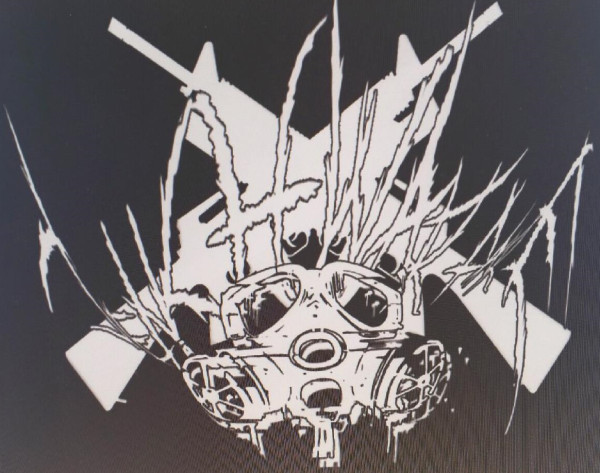 War metal was born when worship of Blasphemy, Zyklon-B, Sarcofago, Impaled Nazarene and Beherit merged with the newly-simplified post-Nordic black metal, but many of us noted that Blasphemy and Sarcofago in particular had more in common with their punk and grind ancestors than black metal as it evolved. Trench Warfare cuts to the roots of war metal by making grindcore with metal rhythms and intensity, and by breaking out of the stop-start patterns of most war metal produce an unrelenting assault that bears down with the intensity of full-bore death metal.
Perversion Warfare consists of three tracks which build high-energy primitive riffing in the Blasphemy style and expand to more traditional grindcore and death metal forms, commenting on the riff that forms the bulk of each song with a series of complementary and oppositional motifs that keep the momentum rolling through rhythm and pattern. Layered on this are urgent martial drums that comment extensively on the change in material, sort of like Destroyer 666 given a technical tune-up, and chanting defiant vocals which resemble a cross between Blasphemy, Blood and early Mika Luttinen. Songs do not relax the strident attack but do come to clear peaks and have a form shaped around that, which avoids the formless grindcore glaze-over that occurs with many bands attempting this style.
Three tracks do not give enough of an impression to tell where this band will go in the future, but it provides an insight into how they intend to make war metal both interesting and militant. Riffs here evoke Napalm Death and Immolation as often as Vulcano or Conqueror, and the way riffs comment on one another to build songs is more death metal than war metal, despite the general approach to riff-writing being more welcome to acknowledging its roots in grindcore and expanding upon them. The result is surging combat energy which creates a narrowed and critical view of the human experience, reducing our social pretense to the practicality of open battle, but infuses into that a delight in survival which — as with all good metal — gives life new meaning through darkness merging into light.
No Comments
Tags: death metal, trench warfare, War Metal