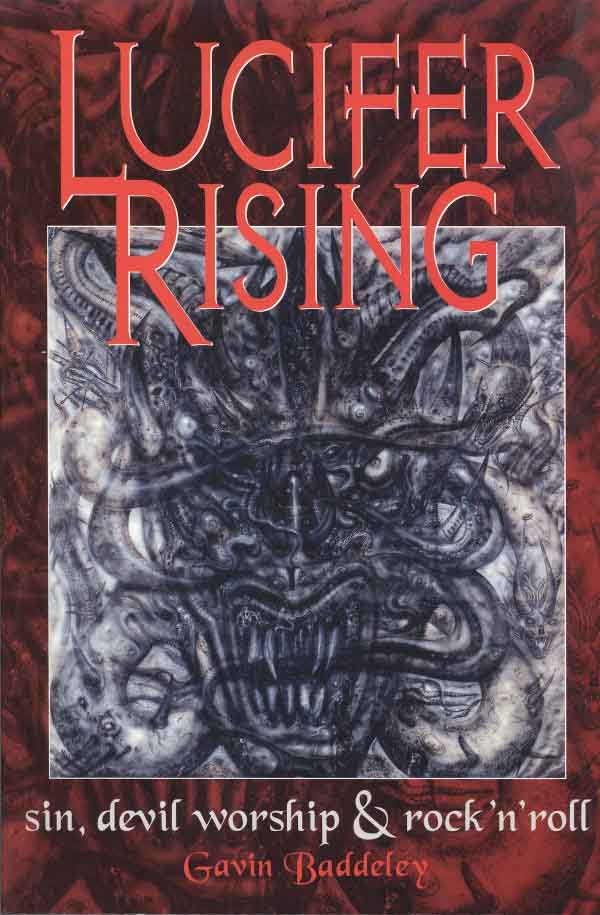 Among the many questions that journalists have struggled to answer, the fascination of some rock music and most heavy metal with Satan has ranked highly among them. Some take the pejorative view that it exists merely to offend, but others see in it the desire to create a counter-narrative or opposing philosophy to modern society itself.
Gavin Baddeley, a journalist who covers rock and populist metal alongside occult topics, delves into this project with a book that is both flawed and highly informative. Like a high school text, it begins with a history of Satanism and the occult with a focus on biographical fact and salacious detail more than philosophy. This gives us a vague view of Satanism that keeps the mystery alive, and nudges us toward the LaVeyian view. In this, the paradox of Lucifer Rising: Sin, Devil Worship & Rock 'n' Roll reveals itself: it is a journalistic exploration of the surface, namely what people say about the phenomenon of Satanism in music, not an explanation of their motivations.
Witness for example this exchange with Bathory's Quorthon:
How did the Satanism get into your music?

When we first started, we had no ambitions to make records or write songs — we just wanted to cover Motorhead songs, because that's what we'd grown up with. We'd just left school, so while other bands sang about drinking beer, fucking women and riding motorcycles, we didn't know anything about any of that because we were too young. But we did have an innate interest in the dark side of life. It wasn't purely Satanic from the beginning, it just grew into that. It was a protest, revolt thing — we knew it would upset people one way or another. If you look at it today, it all seems so very innocent. The main inspiration came from a Swedish horror comic called Shock. It was just the blood and gore thing, with a tongue-in-cheek approach…I didn't have much of an academic knowledge of Satanism, though that came later as I got deeper into it. I started reading into the Christian side of it, too, which is when I decided that it is all fake, so the Viking elements started coming into my work.
This book is paradoxical because while it explores Satanism as a phenomenon, it accidentally hits a lot of other interesting notes about rebellion in general and the dislike of modern society held by metalheads. Its strength lies in its interviews with many leading figures not just in heavy metal but in various forms of occult rock and populist shock-rock. Once the reader gets through the Wikipedia-level introduction to Satanism through famous people accused of being evil, the book runs through a competent history of evil rock music and heavy metal, touching on the important acts with an uncanny ability to find thought-leaders in this area.
As it ventures further into heavy metal, this volume provides a detailed exploration of the death metal and black metal years which recite the major facts, provide some new details, and avoid rampant speculation. At this point as a reader I found myself liking this book, despite having been annoyed by the first chapters of history, and found its insights were greater than one would expect from a journalist outside of underground metal. There are some missteps but sensibly Baddeley allows the book to essentially trail off into interviews with interesting people who are vaguely evil, and does not police forms of Satanism to enforce an agenda. Thus the paradox again: a surface view of Satanism, but many ideas are allowed to emerge to show us the background thought behind those drawn to this general direction, even if no coherent philosophy emerges and so most of it seems like a trash heap of comedic contradictions, bold assertions, mistaken and inverted Christian notions and the like.
Some moments are simply good humor, such as this interview with the legendary Paul Ledney of Havohej/Profanatica/Revenant/Incantation:
What do you think of love?

I don't know — I love sodomy
Many of the interview questions are excruciatingly obvious and repeated, but this is how Baddeley breaks down his subjects and gets them to finally articulate the core of their thinking on an issue, much like frustrated people often give the best summaries of an idea after they have tried to express it repeatedly to others. This both provides some insight, and creates a lot of redundancy in the interviews which add to the confusion of the topic and the consequent tendency of the reader to zone out. Still there are some exceptions, like this cutting to the chase with Varg Vikernes of Burzum:
Why do you and Euronymous have such a great hatred of the Church of Satan?

Satanism is supposed to be something forbidden, something evil, something secret, something people don't know anything of. You go to America and in the telephone directory you can see 'Church of God,' 'Church of Jesus' and 'Church of Satan.' You call, and a woman answers, 'Church of Satan, may I help you?' You think, 'This isn't Satanism! Some stupid fuck is trying to ruin everything.' The superstitious part of it falls apart. The Church of Satan deny Satan, they say He doesn't exist, yet they act as if He did, they rebel against God. They call themselves Satanists because He also rebelled against God, but they're basically light- and life-worshipping individualists.
How interesting that he picked up on individualism as the dominant trait of mainstream Hollywood Satanism. It is as if the ultimate rebellion is to transcend all barriers, including the final one in the self. The interviews in this book are often like metal itself, half amateurish lazy drop-out and half insightful dissident looking for a way outside of the tenets of modern society. In that much of the value of this book emerges, not so much as a study of Satanism itself but as a look at the psychology of opposition, with Satanism as a helpful focus that covers for the real story, which is a revelation of discontent with the philosophies of our time. While Lucifer Rising: Sin, Devil Worship & Rock 'n' Roll does not dig deeper than that, as a read-between-the-lines experience this book is worth its weight in gold and reveals far more than it could under its ostensible topic.
21 Comments
Tags: Bathory, Black Metal, gavin baddeley, havohej, Occultism, profanatica, quorthon, Satanism, varg vikernes