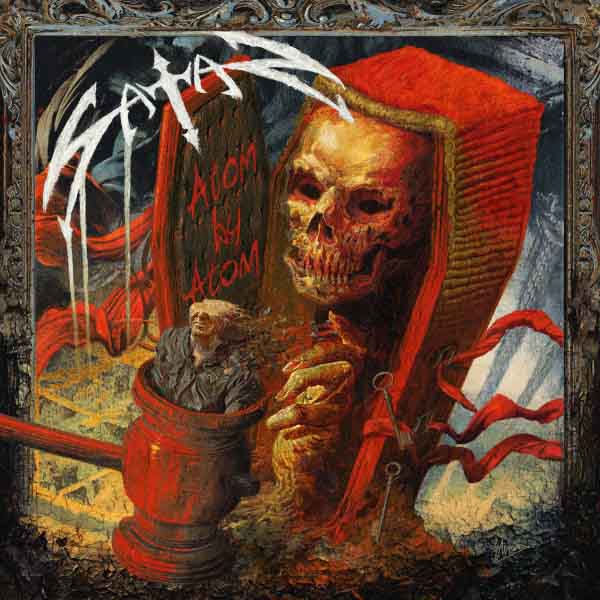 A good legacy and a promising single can do much to build up expectations for any album. Atom by Atom was shaping up to be a textbook example of this axiom back in September, when I first became aware of it. Having listened to the end result, I can confidently say that the band's reformation continues to pay dividends to those who pay attention (and/or cash).
The general formula hasn't changed since Life Sentence – Satan plays the same sort of NWOBHM/early speed metal style that they became famous for, but in a more musically adventurous fashion than they favored 30 years ago. This sort of path leads many a band to neglect the coherence and intelligibility of their songwriting, but that doesn't turn out to be the case here. The guitarists are particularly inventive here – the melodic and consonant style they perform in belies the wide variety of riff construction techniques they've incorporated into these tracks. They're particularly good at the harmonized 'dueling leads' that so many similar bands have adopted; lesser bands would find their musical language shackled by overuse of one mode or otherwise limited.
This power would be strong enough to draw in many a listener, but Satan's strengths on Atom by Atom go beyond mere creative guitar wizardry, although they are still unified by an emphasis on mastering a subgenre. For instance, the vocals (which are pseudo-operatic in style) remind me somewhat of James Rivera's contributions to Helstar in their sonority and dynamic range, although Brian Ross sings closer to the guitar lines than many similar vocalists. However, this applies most to the song structures – while Atom by Atom tends towards typical pop verse-chorus structures like so many albums before it, these songs notably don't rely on any one specific technique to cloak this or elaborate on their musical ideas. It should not escape your notice that in doing this, Satan otherwise consistently sticks to the limits of their musical language; while the way they vary it suggests to me that they could successfully execute a major genre shift if they so desired, I find their success within a genre to be a good outcome as well.
Musically skilled, technically proficient metal may be the norm these days, but Atom by Atom also succeeds on the organizational, structural level that is lacking and often completely ignored in so many of its contemporaries. This makes it a highly worthy acquisition.
4 Comments
Tags: 2015, Atom by Atom, NWOBHM, Satan, Speed Metal