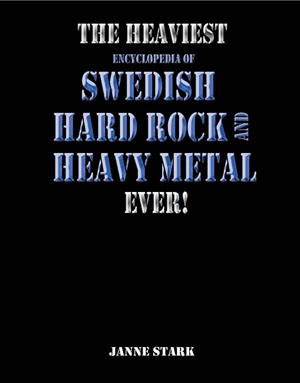 Since the popularization age of search engines began, some have wondered if this spelled the impending doom of paper encyclopedias. If heavy metal is any indication, traditional methods of distributing information are still enduring.
Newly released tome from Premium Publishing, entitled The Heaviest Encyclopedia of Swedish Hard Rock and Heavy Metal Ever!, compiles information on the Swedish scene from the early 70s through the present day. Written by Janne Stark, the book lists releases from 3600 bands with short biographical information for each, notably a format reference for each album, in addition to a index searchable by both area and name. There is also a section on visual history, featuring album art and unpublished band photos.
Packaged with an accompanying CD, the book weighs in at 8.5 lbs. and 912 pages and can be picked up for $79 via the Premium Publishing webstore or $73 at Amazon. In addition, you can preview the book online.
The book contains a bonus CD of rare or never before issued tracks.
Tracklist:
AMBUSH – Don´t Stop (Let Them Burn)
EDDY MALM BAND – Turn In Down
HELLACOASTER – Mani Jack
ICE AGE – General Alert
MASTER MASSIVE – Time Out Of Mind
MACBETH – Sounds Of A Hurricane
THE HIDDEN – For Gods Ache
VOLTERGEIST – Desperate Highway
PAINKILLAZ – Lost My Religion
ZOOM CLUB – Walking On Stilts
RAWBURT – Psycho Man
MONICA MAZE BAND – Eyes Of The Living
STRAITJACKETS – Stripped To The Bone
Slayer – Haunting The Chapel
Napalm Death – Mentally Murdered
Rotting Christ – Passage to Arcturo
At the Gates – Gardens of Grief
Wings – Thorns On Thy Oaken Throne
Sacramentum – Finis Malorum
Zyklon-B – Blood Must Be Shed
Vulpecula – Fons Immortalis
Divine Eve – Vengeful and Obstinate
This series of reviews shows the infectious potential of condensing the multidimensional texture of darkness and mythology into a carefully trimmed brief explosion with no room for filler or long, meaningless passages of droning, experimentation or interludes. Those who mastered the art of the metal EP or mini-LP are rare, but deserve all the more credit for their achievements. The fact that you can listen to everything we have here easily within the space of one evening does not mean that the unlocked experiences won't stay with you forever.
Slayer – Haunting The Chapel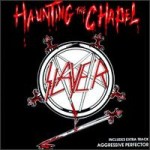 Showing a strong advancement in technique and an evolution towards a darker style that would be the staple of records to come by the band, Slayer throw off the camp shackles of their excellent first album, and give a more progressive approach to songcraft yet give more emphasis on repetition within individual riffs. The violent droning guitar timbre of Discharge makes itself ever more present whilst the musical language of Judas Priest and Angel Witch works itself within those patterns. The dissonant twin soloing of King and Hanneman is more suitable to this new direction also, whilst Lombardo's aggressive battery finds more cohesion in using less variation and being more of an ambient backdrop than before, with Araya's unmistakable rasp encoding itself sadistically within the depths. A bleak affair that summed up the apocalyptic meanderings of the speed metal movement and the embryonic beginnings of the death metal that was yet to manifest. -Pearson
Napalm Death – Mentally Murdered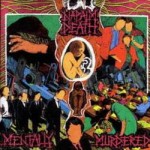 This work is like a convergence of Napalm Death and Carcass, having left From Enslavement to Obliteration and Reek or Putrefaction behind in order to expand on their styles, towards Harmony Corruption and Symphonies of Sickness respectively. By Napalm's standards, at this point in their discography, these songs are quite lengthy and structured with an attention to detail that recaptures the subtle shifts in mechanical motion of the earliest side to Scum. This technique is re-invigorated by the cleaner production, relegating the extremity of fuzzy bass for the sake of a twin-guitar assault that creates an hypnotic and delusional sensation, and shows the input of Jesse Pintado who would go on to record another highly influential work of Grindcore – Terrorizer's World Downfall. Composition is practically freed at very the earliest moments of songs onwards, unlike previous Napalm Death albums where these parts were used to establish exactly which single riff will become immersed in a barely discernable anarchic explosion for the rest of the 30 seconds of music. Instead, it's given a more Death Metal treatment, e.g. in 'The Missing Link', the opening riff seems to degrade over time into smaller grinding patterns until the fragments are juggled like sacks of meat by morbid Death Metal riffs. This is where some of the tremelo melodies that would tear through the rotten wall of sound of Carcass finds its place, accompanied by the mocking lead guitars of Bill Steer. The human tornado, Mick Harris is even more precise than his previous effort, but doesn't lose any of his epithet's justification. Lee Dorrian's vocals become more guttural and undecypherable, conceding to the futility of mainstream political discussion. The seeds of an approach closer in line with the burgeoning interest in Death Metal were sown here, simultaneously taking Grindcore one step further away from reaching the dead-end of short and simplistic outbursts of truncated riffs and hollow statements. -ObscuraHessian
Rotting Christ – Passage to Arcturo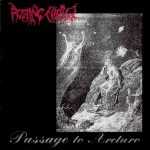 Warm, playful and overflowing with the abundance of inspiration in the rediscovery of ancient shamanic techniques of mystical metal creation, the Greek pioneers of Rotting Christ forsook the aggravated modern noise of grindcore in time to ride the wave of blackness that usurped the European metal underground. Remnants and glimpses of 80's fast modern metal (Slayer) give way to an astral, luminous intensity of synthesizers and slowly picked melodies that suspend the themes for a moment to enable the mind to stop wandering and relish the unholy moment of concentration, in a yogic gesture of blackness. Few have ever used the crushing sonic world of black and death metal to so fully immerse in ethereal ritual, and such rare examples as Drawing Down the Moon preserve plenty of subtle reminders to this widely heard classic of European black metal. As their chaotic exhortations in countless zines of the period conclude, Rotting Christ's hybrid of gothic and black metal aimed for an architecture of the infinite, regal sunsets of lost kingdoms whose landscapes are not for the eyes of mortals, except in dreams and in death. As "Forest of N'Gai" aptly proves, black metal was at its height when not contorted to fit the schemes of a political ideology or an orthodox Satanist movement, but like the great works of literature a realm of fantasy of its own whose symbols are rooted in our deepest unconscious fears and desires. This sub-space can then be used by the analytical mind to figure the patterns of generation for a multitude of creative, even lunatic, concepts. -Devamitra
At the Gates – Gardens of Grief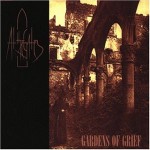 The original Gothenburg gloomy melody cult made one of their strongest statements on this early EP, pressed from demo to vinyl on the first year of the band's existence. Fresh from life disrespecting bands such as Infestation and Grotesque, these Swedes nail the most desperate guitar harmonies since Candlemass, but infect them with the viral sensibility of a flux of death current. As if plugging the Sunlight Studios into your brains in direct interface, Svensson's tremolos rip and rend mercilessly apart the soul of the beast that dared expose its true feelings of living in a world of hypocrisy and uncertainty. The band has preserved the most fragile moment of the Swedish death metal underground, the precarious balance between the catatonic psychosis of headbanging under alcoholic influence and the deep, burning, thoughtful soul of an encrypted Romantic in a world of pain and disguised memories. It all takes such tangible form in Tomas Lindberg's cracking, maddened scream: "I am at the gates – Lord of Chaos – Let me sleep". The fear and anger of At the Gates' most revered albums will always remain something that divides audiences according to their response to such emotional cues, but "Gardens of Grief" is the un-terrorized, exuberant sound of youth that realizes the presence of death and dives into it headlong, appropriate to the Per Ohlin dedication in the liner notes. -Devamitra
Wings – Thorns On Thy Oaken Throne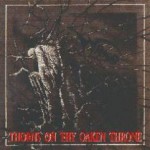 An all too brief EP from Finnish gloomophiliacs Wings, as ephemeral as the tortured existence that is enshrouded in these twisted sounds of darkness-raped melody. Almost like the missing tracks from Cartilage's cult classic 'The Fragile Concept of Affection', this continuation goes further to explore the sombre moods of songs like 'Why Do I Watch The Dawn?', in their Replicant-like reflections upon the transience of a human existence placed between the crushing, vice-grip of nothingness. Wings don't peturb the balance of pace of slower, more expansive lakes of hypnotic melody that made up Cartilage's contribution to their split with Altar, but there is greater focus on creating a doomier atmosphere, leaving no space for the grinding riffs of the past incarnation – a technique that parrelleled the Swedish Unleashed on their first album. Instead, an older treatment is given to the bouncier riffs, which could be heard as Punkier passages, but as this EP comes together as a whole to reveal, these bridge the narrative that seems to span across both songs with a mid-pace tempo in which the drawn out melodies pass through towards an expressive, quite neoclassical riff of totality – encompassing all the hopes that are weighed down by all the sorrows in the journey towards death. This poem in two parts is a valuable recording of Death Metal history, as a valid direction for these Finnish musicians to have taken following the demise of Cartilage, with all their weird melodic knowledge as baggage. -ObscuraHessian
Sacramentum – Finis Malorum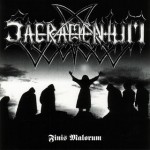 A true gem, Sacramentum's first EP showcases a style that is melodic and emotive in a manner not unlike countrymen Dissection and Unanimated. Epic, catchy and well crafted compositions are multi-layered not unlike Emperor minus keyboards, the rush of guitar notes being vibrant and lively, with little emphasis towards a rhythmic expectation, as one would expect with most heavy metal and hard rock music. Simultaneously moody yet without being whiny, this early release by Sacramentum showcases a band who are able to master quality control and bring the best out of all the elements that define their music. Alongside At The Gates, artistically the finest Swedish metal act of the 1990′s. -Pearson
Zyklon-B – Blood Must Be Shed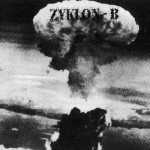 Fast, raging black metal with the fury of early Deicide and the sharp harmonizing typical of Mayhem and Immortal's 'Pure Holocaust' come head to head, in the guise of technically precise, abrupt songs. Shouty hardcore vocals, warm synth overlaps, a near constant blastbeat and anti-humanist lyrical concepts indicate a desire by known Norwegian musicians to advance the aggression of the black metal style and shift it's idealogical focus away from romantic nostalgia. This brief E.P. lacks the spark of Norway's foundational acts, but remains an influential statement of the subgenre. -Pearson
Vulpecula – Fons Immortalis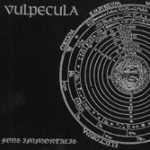 Who would have expected Chuck Keller to open the gates to very Orion itself after the folding of the aggressor squad par excellence Order from Chaos? As if a continuation of the promise of the astrological and alchemistic symbolism of the former bands' lyrics, Vulpecula slows it down and strums soothing, yet vigorous melodies while the vocals multiple into wraith-like dimensions of rhythmic rasps and Keller's leads occasionally burst into the aggressive, spasmous flight of an eagle amidst a thunderstorm. "Phoenix of the Creation" delves into exercises in authentic space synth, while "The First Point of Aries" harkens to the mid-paced woodland meditations that the Norwegians used to record at Grieghallen. Occasionally slightly hindered by the band's eagerness to cram all the influences from Schulze to black metal into one short EP, the mere richness of it invites the ears to take their pleasure at will from the Babylonian garden of ponderous and prestigious movements that are achingly attractive and acceptable in their innocent refusal to complicate things with dissonance. Credit also goes for the lead guitar efforts of Keller on their traditional melodious injection which easily avoids the neutrality of more pop oriented bands trying to do the same. Almost like envisioning a "new age" approach to the genre, Vulpecula is an alien saucer amidst the orbit bound technologies of "progressive" death metal. -Devamitra
Divine Eve – Vengeful and Obstinate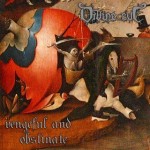 The first new release that's being reviewed for 2010 and it's already giving distinct impressions of the kind of quality that made 1993′s 'As the Angels Weep' a genuinely classic EP. Divine Eve keeps the form of this new material far simpler, stripping away the Death Metal-infected sludginess for a more rudimentary homage to early brutal music like Celtic Frost. 'Vengeful and Obstinate' makes its own unique statement by honing in on the nihilistic and warlike spirit of the Swiss legend's To Mega Therion magnum opus, even invoking the same battle-horns on 'Ravages of Heathen Men' that bring focus to the beauty of conflict and strife in a meaningless universe. The varied tempo of grinding riffs set to a dirty bass guitar adds to the atmosphere of struggle as an outlet for this primitive, instinctual response to the world. 'Whispers of Fire' being the exception on this EP for the constantly up-tempo pace, it's a pleasure to hear such slow and sludgy music churning visions of the darker universe beyond our lives of comfort and languish. The final and most devastating touch of 'Vengeful and Obstinate' is how Divine Eve makes extensive use of the piercing tone that Xan's grating guitar setup produces, highlighting the spiral passage of powerchords by revealing their hidden, melodic architecture, ingenuiously managing to explain and enhance this rugged approach of legendary lineage. It's about time the band produced a full-length and they've proved that they possess more than enough knowledge of unholy riffcraft to do so. -ObscuraHessian