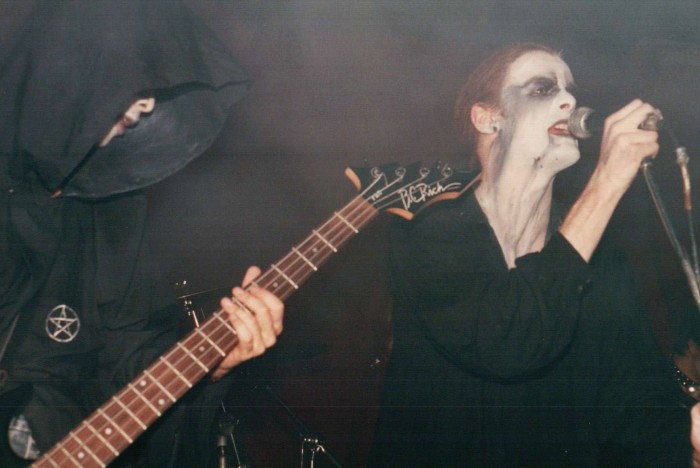 Folk metal band Primordial vocalist Alan Averill inveighed against social justice worker (SJW) academics who recently witch-hunted "racism" and "sexism" in folk metal, claiming they are johnny-come-latelies using the authenticity of the metal name to draw attention to their careers. Writes Averill:
I don't know whether to be bothered sharing this shit…..I think what these fuckwits fail to understand, or rather as usual intellectual ghost hunting is the place that 'folk metal' takes within the overall timeline and context of metal. The imagery and themes of folk metal are distilled from metals' pre-occupation with fantasy not necessarily from a historical or factually based context, nor does it have to be. The language of for example Viking mythology has been perfect for metal since Zeppelin wrote 'The immigrant song'.

Folk metal essentially took the place culturally in metal from where power metal left on in the late 90s and early 00s. Often it has more to do with role playing, gaming and fantasy….just with furry boots.

Claiming that is is somehow racist because it borrows from pre christian European history is just pointless and reductionist, bands do not have to apologise or justify singing about their culture and as I said most of it is through the prism of fantasy and myth because the imagery is simply perfect for heavy metal.

Sexist? again rubbish, I can think of quite a few 'folk' metal bands who have written tomes and hymns to the goddesses of the ancient world, both Cruachan and Waylander from Ireland spring to mind. You can find the same reverence for the feminine in nature in not only my own band Primordial (who are not folk metal but have connections to that scene) but also in bands like Enslaved, Wardruna, Our survival depends on us, Dordureh, Fen, Eluveitie, Negura Bunget among so many others (yet this is conveniently ignored) . Not to mention the band quoted as starting the whole genre Skyclad, even a cursory glance at their lyrics and imagery will suggest the opposite of this study. Again just a cherry picked argument from someone hunting ghosts.
Not to mention the fact that if you have ever attended a pagan metal show in Europe or the USA (and I've been at loads) you will find a very very healthy % of the crowd are women and often on the stage, the general feel of pageantry and joviality in this scene is least of all full of the macho behaviour these authors are looking for. It's a young excitable scene which likes to play dress up, dance around and drink a beer or two…

You want ghosts? go ghost hunting somewhere else

I once lectured about Black Metal here in Ireland…to a room full of people full of agendas and opinions and angles for their own conspiracies and prejudices. My opening line
'You can't intellectualise a punch in the face'
…..you weren't there and I am going to tell you how it was so shut up and listen.
You can read the full rant on a favorite social networking site for bored cube slaves to vent about the meaningless of life where some of the feedback has been quite interesting. The backlash against SJWs, revealed by Metalgate when one of the researchers mentioned above, Karl Spracklen, unfriended me over Facebook for allegedly un-PC postings elsewhere on the internet, has now reached a broader audience which is tired of outsiders interfering in metal to pick up on its perceived cachet of cool.
4 Comments
Tags: alan averill, Black Metal, censorship, folk metal, metalgate, primordial, sjws