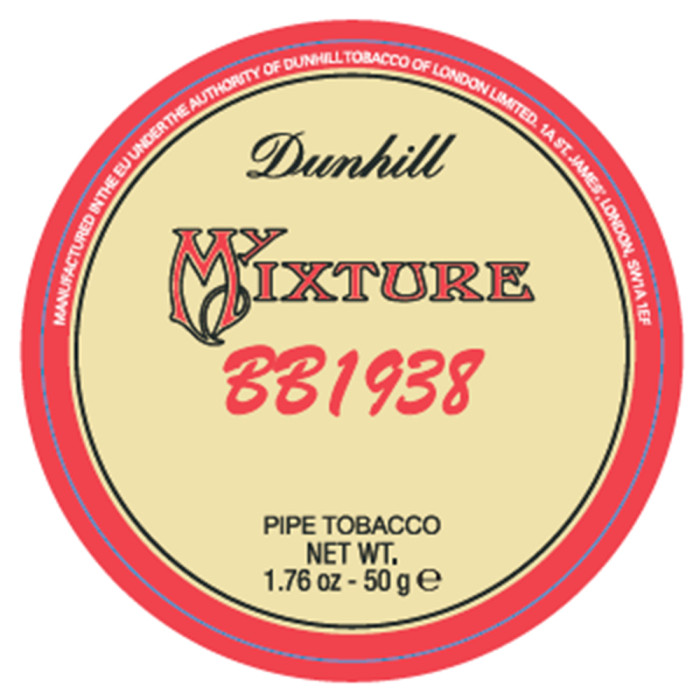 A long time ago, when times were more innocent, a tobacco company created a blend called "Baby's Bottom." The idea, before the scatological and pedophile implications of our present time drive it from your mind, was that the mixture was smooth… as the proverbial buttocks of a baby. Not much different than King Kobra malt liquor, which back in the relatively-halcyon 1980s told us "Don't let the smooth taste fool you," while all of us wondered what the heck they were talking about. Sensing the same resistance all of us have in these cynical days to innocent names, Dunhill returned this one under the name My Mixture BB1938, keeping the nomenclature they developed when their primary business around 1912 or so was keeping track of custom blends for customers.
To cut to the chase, My Mixture BB1938 is a light English comprised of a blend of sweet and bold Virginias, capped off with Latakia, and gently stoved or aged to make it very mild, with a slight vanilla hint on top of it. I heard of this blend earlier today when I tried the Pipes & Cigars BB1938 Match, which is very similar but felt like it had some Burley in it and much more of the vanilla topping. Back in the 1950s when this was a popular blend, "mildness" was prized by pipe smokers. This catch-all term referred to blends that you could not screw up because they were low in nicotine, pleasant in "room note" or the smell after burning, cool burning, and easy to light and keep lit. That meant saying goodbye to coughing wives, pipe burn-out and vomiting in the sink near the employee entrance. With this blend, Dunhill achieved that mildness by denaturing the Virginia and Latakia, and leaving out the Orientals that might otherwise create a slight vinegar taste, creating instead a sweet, soft and gentle mix that you can burn all day without blinking. The Latakia dominates the flavor with a background note of gentle sweetness, with Virginias intruding only as a supporting note of mixed sweet and nutty flavors. It compares favorably to the American Cavendishes but owing to its origins as an English blend, derives its flavor more from the sudden mixing of different elements than a streamlined single flavor. The original is far superior to the Pipes & Cigars version, which comes across as a misplaced aromatic, where the original tastes like a light English without the bitterness and bite gentle crested with vanilla.
As a designer of tobacco products — since they outsource manufacturing and marketing — Dunhill stands as one of the finest outfits on earth. They aggressively find market niches and exploit them by taking a middle-of-the-road approach and then improving until until it is if not a luxurious experience, at least a highly satisfying one. My Mixture BB1938, like Early Morning Pipe and Standard Mixture Mild, targets the broadest segment of pipe smokers who want to enjoy eight to fifteen hours of smoking a day without having to worry about the complexity of pipe or tobacco. You can sit at your computer and puff away complacently for hours, dumping out the dead ash and dottle when each pipe dies, and never be interrupted by the needs of your pipe. Where Early Morning Pipe is like their Mix Mixture 965 a Scottish English with added Cavendish, and Standard Mixture Mild approximates their classic English with the edge taken off, My Mixture BB1938 cuts everything to the minimum and presents instead a conveniently accessible, moderately priced, and soothing tobacco for the working smoker. It might be able to improve itself with the addition of some of the gentler Virginias that the BB1938 Match from Hearth & Home uses, or even some light Burley to cool its burning. As much as I generally dislike tobacco blends with this little nicotine, the flavorful and comforting nature of this one — which we might view as an ancestor of mulled Latakia brands like Esoterica Penzance — keeps me loading the pipe again and turning back, placated, to whatever task has been keeping me from seeking out Royal Yacht and burning down a stack of it.
Quality rating: 4/5
Purchase rating: 5/5
3 Comments
Tags: baby's bottom, Dunhill, english blends, my mixture bb1938, pipe tobacco, tobacco