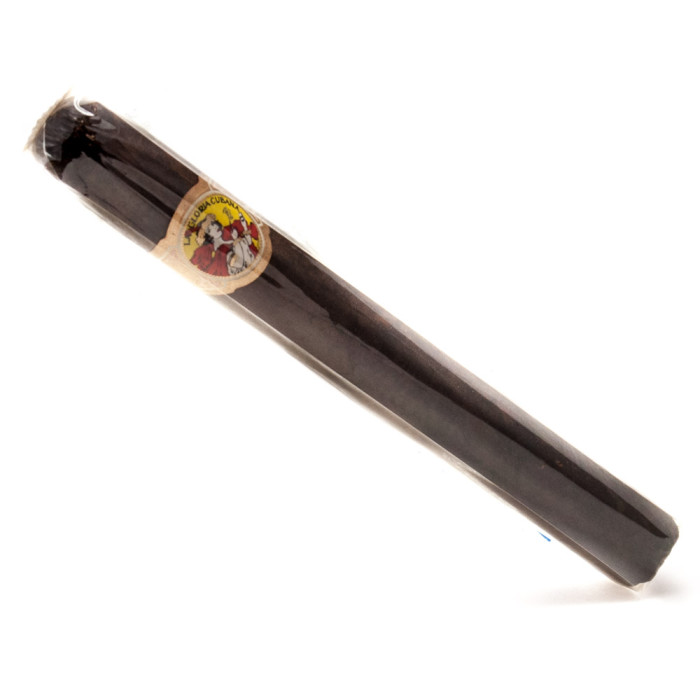 This medium strength cigar begins with a leathery flavor with undertones of vinegar. For the Churchill size, especially in a Maduro wrapper, I recommend making as broad of a cut as you can and then using a tamper to push in stray tobacco and expand the airflow by disrupting the tightly layered leaf. This opens up a massive wave of rich smoke from the oily and aged leaves, which burn through an initial bitter flavor toward a nutty, buttery and satisfying deep tobacco flavor.
La Gloria Cubana came of age during the 1990s cigar boom as people reached beyond the traditional market leaders for new, intense flavors. Originally blended by Ernesto Perez Carrillo in the tradition of his family back in Cuban, these well-rolled cigars with high-quality leaf have now become standards at most cigar shops to the point that novelty seekers (hipsters and others) will avoid them. These cigars begin life as blended tobaccos from the Dominican Republic and Nicaragua, layered and bound with a binder of the same and then wrapped in an outer shell of broadleaf Maduro color leaf from Connecticut.
The result preserves the contents for breathing necessary to age and percolate those sugars to the surface, but also avoids adulterating the flavor. At medium strength, the cigar burns from hints of leather into a nutty middle and then ends in a leathery, strong smoke that bears down on the smoker with copious nicotine. Like a Wagnerian opera, the Maduro Churchill cigars work up to a crescendo and then become avenging Valkyries intent on the kill. For the fifty-nine minutes of your life that this cigar will occupy, much of the world will recede and thoughts will become clearer. Ash falls in full clumps and your sense of time evaporates, leading to a disappointment when the nub finally cashes and the cigar remains a pleasant memory.
Quality rating: 4/5
Purchase rating: 5/5
1 Comment
Tags: churchill, cigars, la gloria cubana, maduro, medium