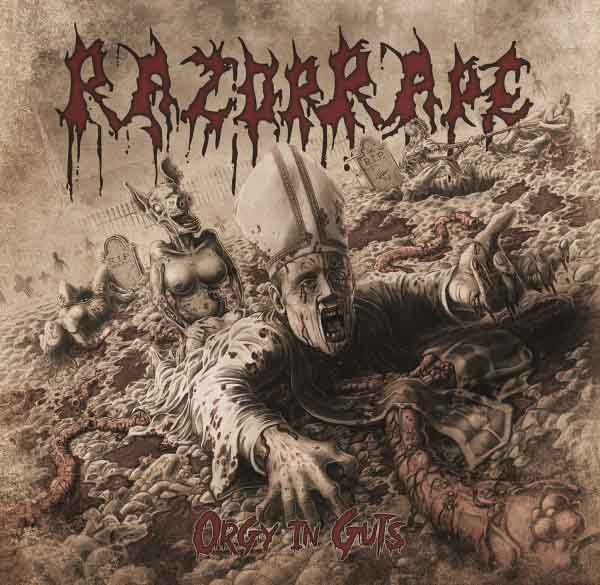 Razor Rape is a grindcore band that focuses on gore for the fun of it. Whatever this particular style of grindcore is called out there is unimportant. It is only important to recognize that it is trying to be some kind of grindcore and describe it as groove-oriented, fluid, and offering no new thinking past the first two songs. By the third song, you are already hearing the band repeat itself. Then it's just the same experience on a loop.
This makes Orgy in Guts yet another good example of how the limitations of the lyrical/ideological concept of the album affect the formation of art. If we start by placing the concept of this album, namely, the "orgy in guts", an unabashed and obviously tongue-in-cheek gore comedy, with the music, namely, the bland and simple-minded rehashing of a couple of groove riffs in short arrangements that end not because the point was made already (as is the case with classics like early Napalm Death, and  all Blood) but just because grindcore songs are short and well, it's a good excuse to not have to think about more riffs or sections.
Grindcore in presumption only, every song here is a cliche-collection arranged with little variation or purpose other than carrying  the vocal line enough so that screams out the mostly-unintelligible gore fantasies that serve to take listeners safely to a "dangerous" and "dark" place of the human mind. A project that does not take itself seriously can get away with presenting apparently controversial, taboo or shocking topics in a comedic way for the average Joe to approach it with a sense of morbidity without feeling that he is in any actual danger. Razor Rape forms part of the unnecessary fodder that plagues today's metal landscape. Do avoid.
No Comments
Tags: 2015, Bonesaw Facefuck, Gore, Grindcore, Razor Rape