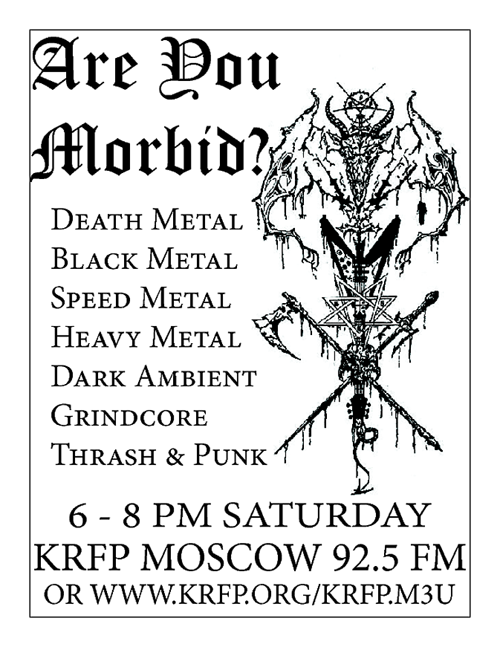 From 1995 to about 1999, the old underground tried to live on in a new modern form. Then it collapsed, and what took over was an indie/alt-rock hybrid of metal that lost the raw aggressive spirit of metal and replaced it with self-pity. Starting in 2006 or so, the revival of the underground began. A new radio show is helping blast that door wide open with a solid diet of underground death metal, black metal, grindcore, speed metal, thrash (crossover), and hardcore mixed in with dark ambient and possibly classical music. Meet Devolved, the voice and choice of music behind the show.
What name do you use on the air?
Devolved. Devolution is real!
Why did you pick an old school death metal, black metal, thrash, grindcore, speed metal, heavy metal and dark ambient show?
Metal helped me see the world in a new light, or at least provided a soundtrack. Perhaps it will affect a few of the listeners in the same way. My generation (what they call the 'Y' generation) certainly needs a new light and a new path.
Do you think these genres offer something artistically or politically that doesn't exist anywhere else?
I can't say that with certainty. But the best metal does contain a spirit which is hard to find elsewhere. A real love of life, and of death. And that youthful desire to analyze all aspects of reality, even if unpleasant.
What's a typical playlist?
Mostly death metal with forays into other genres. Autopsy, Suffocation, Massacra, Immortal, and Slayer are perennials. I discover more metal music all the time, both modern and old-school, and incorporate what I find stimulating.
How has response been so far?
A few locals have called in and voiced their support. People also listen to the show online; how many is hard to know.
Do you think there's a difference between old school underground metal and what's going on now? If so, what is that difference?
Obviously, but I really don't know much about the modern 'scene'. It seems that most of the good releases of the past few years have been composed by musicians who have been around since the formative years. It's possible that people of my generation are simply incapable of creating quality metal, either for innate reasons or because attention is focused elsewhere.
What defines an underground genre, like old school death metal?
Shared ideals through a shared artistic method. The "underground" aspect is probably a conscious choice to avoid decay and assimilation.
Why do you think there was such a peak in output of old school death metal and black metal in the late 80s through early 1990s?
Seems like intelligent, alienated Westerners finally realized that the rot had reached to the very core of our society, and that by that point halting Kali was impossible. Certain individuals had realized this long before, but it takes a critical mass of aware people for an artistic movement to form around such an idea.
Is something similar going to happen again?
That would be cool. What I see with my generation these days is that they're either totally lost in their own narcissism, or are working their butts off to rise above the masses of this overpopulated planet. That doesn't leave much time for art.
What advice would you give someone interested in learning about these genres?
Find people you respect and see what they say influenced them (this is why band interviews are great). Death Metal Underground and DLA both introduced me to a lot of good stuff; frankly I often just trawl through Youtube vids until I find something interesting. Learn more about the craft and composition and don't be afraid to be critical, selective or 'elitist'.
I was watching the Combat Records Live at Studio 254, NY tape with Venom, Slayer and Exodus. Slayer were getting loaded and talking about how they liked Bach and Tchaikovsky. When I interviewed Quorthon, he was heavily into Bach as well. Do you think there's a connection between metal and classical?
Absolutely! The simple explanation is that classical (and baroque) music will deeply affect anyone with intelligence and taste and love of art, or even one of those three qualities. Metal bands were not the only musicians affected, but they incorporated these influences into their own compositions in a way that no one else did.
No Comments