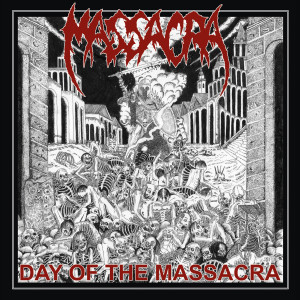 In the early days of death metal, a band from France vitalized the style by taking Slayer's phrase-riff technique to a new extreme, laying the groundwork for a type of death metal later developed by a diverse cast including Incantation and Vader.
Massacra, the band that launched that stylistic vein, put out two legendary albums — Final Holocaust and Enjoy the Violence — before unfortunately suffering the loss of two of its most vital composers and becoming a different band entirely. However, a series of three demos were never pressed to wax or polycarbonate.
Twenty-five years later Century Media prepares to re-issue three classic demos on one CD. "Nearer From Death," "Final Holocaust" and "Legion of Torture" demos from 1987-1989 will see realization on Day of the Massacra, a compilation that is now in pre-order in Europe.
Composed of these early works, and assembled with the help of guitarist Jean-Marc Tristani, the compilation was remastered at DMS by Ulf Horbelt (Morbid, Asphyx, Grave, Necropsy) and comes with a 24-page booklet of rare photos, an interview with Tristani, and other historical information.
Further, Century Media has stated its intent to release the first five Massacra albums, including Final Holocaust and Enjoy the Violence.
According to Century Media's Nikki Law, however, Day of the Massacra will not be released in the USA, but some imports will make their way to these shores for those diehards who want to celebrate this pillar of early death metal.
Tracklist:
"Nearer From Death" demo 1989
1. Apocalyptic Warriors (Chapter Final) (06:04)
2. Sentenced For Life (05:15)
3. Nearer From Death (07:48)
"Final Holocaust" demo 1988
4. Intro (00:43)
5. Apocalyptic Warriors (03:36)
6. Final Holocaust (04:40)
7. Dream Of Violence (03:18)
8. Troop Of Death (04:24)
9. Outro (00:36)
"Legion Of Torture" demo 1987
10. Intro: March Off / Apocalyptic Warriors (05:59)
11. Toxic War (05:45)
12. Legion Of Torture (03:06)
13. The Day Of Massacra (04:15)
To order:
4 Comments
Tags: death metal, massacra