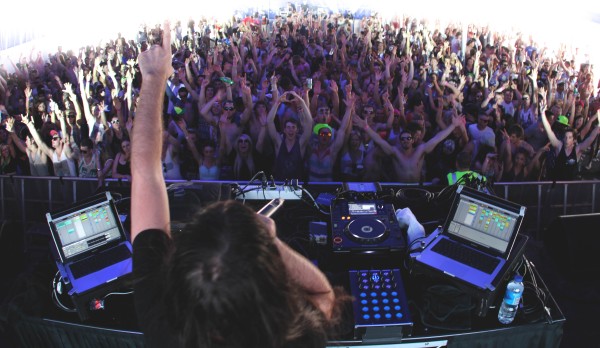 Metal is not a job and will never pay the bills. Hence many metal musicians move on to other careers. Sometimes this includes other forms of music. Such is the case of Lorin Ashton, a/k/a Bassnectar, who previously was in a black/doom metal band called Pale Existence.
Correctly intuiting that metal would not pay the bills, and being from the already-undernoticed San Jose scene which got obscured by the greater prominence of nearby San Francisco, Ashton migrated from underground metal to playing multiple DJ sets a day in an effort to develop his hybrid style.
The result was Bassnectar, a merging of afterhours club music and sonic torment which showed its heavy metal origins. While Ashton retains his long hair and metal/punk tshirts collection, this lengthy history of involvement in underground metal is probably lost on his audience.
Pale Existence also featured Steve Cefala of doom/black metal band Dawning. Most fans don't know of this underground history, so we present a comparison of Lorin Ashton a/k/a Bassnectar in both the old days as Pale Existence and in his newest form:
http://www.youtube.com/watch?v=e7yW5cY0k-c
12 Comments
Tags: bassnectar, Black Metal, Doom Metal, pale existence