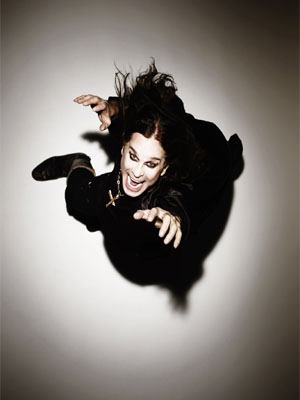 This has been a year of reflection and success for Black Sabbath. The band reunited 3/4s of its famous lineup and recorded what probably will be its swansong: 13. Widely acclaimed, the album quickly surged to the top of the charts, an impressive achievement for any heavy metal band but doubly so in the current climate. Our review found it to be worthy of the success it's been receiving.
Lyrically, much of the album is concerned with the process of change. This theme has been occupying the thoughts of the band members as they look back on decades-long careers now winding down. In a recent interview, Ozzy Osbourne was asked what his views were on heavy metal and how Black Sabbath had shaped the genre:
I have never ever ever been able to attach myself to the word 'heavy metal' — it has no musical connotations…If it was heavy rock, I could get that…People come up to me and say, 'Your Sabbath work was a big influence on me.' I could go, 'Oh, yeah, I can see that.' But other bands … what part of that is inspired by us? Some of it is just angry people screaming down a microphone.
In this author's opinion; this is an erroneous view, but an interesting statement in that it raises the questions: what makes heavy metal different from heavy rock, and how did Black Sabbath inspire generations of diverse metal genres?
What made Black Sabbath different from the other rock bands at the time was primarily what it was trying to express. The band avoided the flowers and rainbows hippie culture and spoke of darker subjects, but ones that were ultimately more true. Taking a nod from horror movie soundtracks and occultist influences, the band injected their music with a darker style of writing, which scared listeners and threatened the illusion that our society was stable.
From the very beginning of the debut album it became clear that this music was different. It's not designed to be a product; rather it attempts to express something and allows the song to shape itself through connecting phrases rather than forcing it to adapt to pre-determined and easy-to-digest formulas. Even more, in spirit it's a call to action, not a lullabye, commercial message or protest song (aren't they all the same thing?).
Today's bands which appear dissimilar aesthetically are nevertheless motivated by this same desire. The "screaming down a microphone", abrasive riffs, and aggressive drumming are stronger methods of explicating something that often goes unsaid in our daily lives amid safety locks and childproof caps.
Death metal and black metal incorporated all the different elements that Black Sabbath first shocked hippies with, though taken to a greater extreme. Making the decision to create art rather than entertainment, the genres invoked contrasting structures and phrases in their composition, creating a modern take on a classical method of writing, wherein lines of melody overlap with each other yet when heard from a distance join together to form a complete whole.
The genres also took the hint of occultism that Black Sabbath contained and brought it to the fore: Satanism and general opposition to Christianity was the norm, though not for the sake of mere shock value, but as a way of communicating that our feel-good churches are not a permanent solution. Extolling the virtues of pre-Christian beliefs, the bands involved brought attention to alternatives to both Christianity and vapid materialism.
Beyond the specific technical influence Black Sabbath had on heavy metal (doom metal), there is an underlying thread that connects all bands that wish to play loud music for reasons beyond getting drunk and violent: somewhere, relatively recently, our society lost its way and has been living on borrowed time in denial. Heavy metal (not hard rock or heavy rock), is our way of finding meaning in the void; and as a result, Black Sabbath is unmistakably part of that.
http://www.youtube.com/watch?v=J5yR5XhCIeg
8 Comments
Tags: black sabbath, Heavy Metal, ozzy osbourne