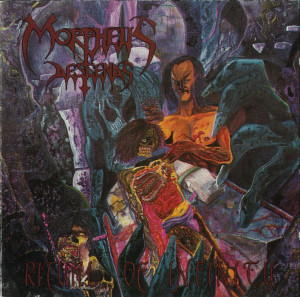 Most of us who emerged into the classic death metal milieu are familiar with Morpheus Descends's classic album Ritual of Infinity and its striking cover art that remains controversial to this day. The illustrator who created that polarizing work has launched an online presence and is designing metal art of similar caliber.
Morpheus Descends rose after the early years of American death metal but before the solidification of the style, and created a grandfather template for both New York death metal and heavy percussive death metal in general. Their most notable influences were on bands like Suffocation and Incantation, who took the blueprint that Morpheus Descends created and pushed it to new heights of complexity and technicality.
Brad Moore, who designed the iconic cover, was able to give us a few moments of his time to describe his art, life and time with Morpheus Descends. For those curious about the band, our interview with Morpheus Descends is a good place to start, or peruse our brief explanation of the band and its context.
Read the full interview here.
No Comments