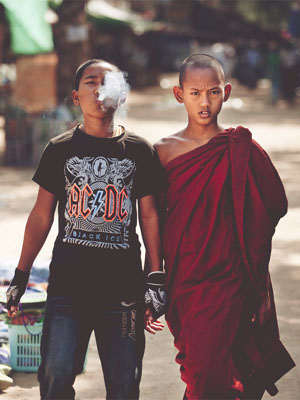 Although for the last decade mainstream society has accepted the more radio-friendly metalcore and post-metal variants of metal, there are signs that civilization is finally facing the importance of underground metal and grindcore, albeit in baby steps.
First, a study that will make you question your individuality pointed out how people in mosh pits behave like the molecules of excited gasses. The ensuing articles got moshing and moshpit terminology into the minds of the average citizen and seemed to capture the imagination of many.
Then, numerous newspapers reported on a plan to use Napalm Death as a sonic disruptor for an art piece. "The collaboration was designed to be a comment on poverty, with Mr Harrison making sculptures of tower blocks from the band's home city of Birmingham which would explode as they played, reflecting the breaking down of inequalities."
Continuing the theme, mainstream media have formally recognized the death metal genre as not only existing, but as having been in existence these past 25 years. A brief overview of Tampa death metal made it onto the wires, complete with incredulity and band names. No one mentioned the Death album found under the murdered guy, but they did capture some of the appeal. "It's dark, evil, ugly music, and not many communities want to acknowledge that an Obituary record might mean just as much to a lonely teenager as any Tori Amos or Nirvana album."
While we in the underground have come to expect little from the mainstream — they like love/sex songs with pretty vocals and simple rotating structure — it's gratifying to see the genres of death metal and grindcore being officially admitted as having endured enough years that they're not going away, and civilization might as well sigh and make its peace with them.
1 Comment
Tags: death metal, Grindcore