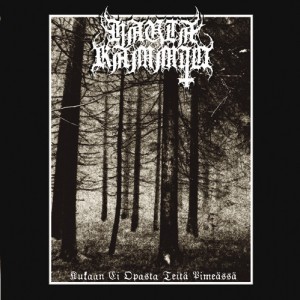 During the early days of black metal, it was acknowledged that punk had been a major musical influence on the genre. In particular, Discharge was cited as a foundation for seminal black metal band Hellhammer which later inspired a generation in the form of Celtic Frost.
The descendants of that heritage were the legendary Darkthrone, who fused punk energy, powerful riffs, and the searing bleakness of black metal into a musical maelstrom that had never before been heard.
Two decades later, Finland's Hautakammio emerge with an even more intense attack. Sounding like a black metal crossover band, Hautakammio fuses the punk style with a black metal sound similar to Gorgoroth, producing a blistering aural assault. Riffs organically transition from dashing powerchord riffing to rapid tremolo picking while decidedly black metal vocals occupy the background.
Unlike Darkthrone however, Hautakammio does not sound greater than than the sum of its parts. While powerful music, it does not invoke a landscape of sound, remaining confined with linear production and direction. Nevertheless, this track is a solid composition with a unique take on a genre often stagnate.
For those interested in hearing more, the album Kukaan Ei Opasta Teitä Pimeässä will be released later this year through Darker than Black Records.
13 Comments