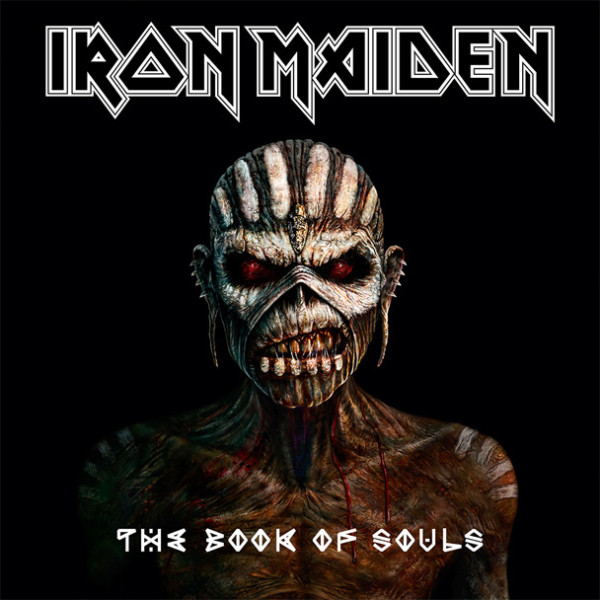 Iron Maiden's main strength in their 1980s heyday was their ability to incorporate progressive rock tropes (and therefore useful techniques for song variation and extension) into what was otherwise a fairly standard, if well executed poppy heavy metal sound. Not the rarest trick in the book, but more than enough to turn the band into a commercial juggernaut whose influence can sometimes be heard even in the deepest dregs of the underground.
On first impression, The Book of Souls ages gracefully, offering an aesthetic mostly similar to the band's earliest recordings with Bruce Dickinson if understandably and obviously brought up to modern production standards. Like the rest of the band's latter day material however, it leans ever closer towards its prog-isms, resulting in several enormous tracks and inflating the content into a full-fledged double album. The unfortunate weakness of these epics is that they are replete with filler of questionable value to a track, and as the length of these albums and tracks grow ever longer, so does the tedium, as Iron Maiden's ability to extend a track beyond 7-8 minutes or so has not advanced along with them. Tracks end up overwhelmed by moments stunningly reminiscent of old hooks and hit singles (for instance, the intro of "Shadows of the Valley" seems to channel "Wasted Years" from Somewhere In Time), and the true nature of the band's recent weakness reveals itself.
Iron Maiden has become a band split between two souls that they are unable to effectively reconcile. Their urge to extend their songwriting and write metal epics is held back by their need to continuously sound like Iron Maiden and the corresponding need to push hit singles. Paring down some of the worst excesses would probably be the most profitable option, since the band has demonstrated many times through their career that they can handle some degree of extension. Even then, Iron Maiden is competing with their own past; a past that is more virile (if not as slickly produced or musically experienced) and still easily experienced at their live concerts. I expect this album to jump off the shelves of record shores for still being recognizably Iron Maiden, for having some memorable and well-written moments and for being a valid way to financially support the band, but as a work of music, I don't expect it to retain much listener interest after its marketing blitz subsides.
14 Comments
Tags: 2015, iron maiden, mainstream metal, The Book Of Souls, traditional metal