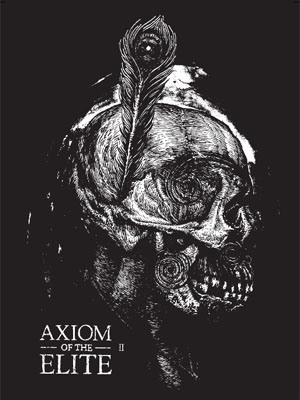 This professional zine comes from New Zealand and has two really unique features: first, it exclusively focuses on local bands, regardless of genre within the metal-punk spectrum, and second, it aims for an elegant and professional presentation that radiates distant analysis more than organic enmeshment.
Axiom of the Elite thus more resembles a specialized trade publication or end-of-year report, with consistent use of fonts, highly readable pages, and consistent information. The writing is accurate and in depth with a breadth of vocabulary, and addresses all the questions an aspiring metalhead could have. In voice, it's more literary magazine than gutter rock publication.
While the writing voice is more "chatty" than an American or central European publication, those who have read British or Australian zines will recognize this use of familiar social tokens as a kind of contexting. It works quite well here, where reading is like a formal presentation of data in an informal setting, and thus puts the mind in decision-making mode immediately. This works in favor of the bands covered, who are presented as contenders from the beginning.
Issue #2 of Axiom of the Elite picks up where last year's first issue left off, but swaps the CD compilation for a download code for band tracks online. If the zine editors want to keep costs and postage low, this is an essential move, although these compilations seem to be something you'd want on the wall, from the sound of things.
Seeing heavy metal, crust punk and underground metal all presented in the same zine might seem a bit odd at first but it helps feather the presentation by allowing some levity and diversity where otherwise, especially in the context of the professional/arch layout and language, might be a bit overbearing. Even better, this zine comes with a clear mission statement:
• To promote NZMetal bands who have had little to no exposure internationally.
• To input my own personal and anecdotal reflections on the bands (this includes from recordings through to live shows) and their impact upon the local scene as a whole.
• To display the NZMetal scene as what it really is. As not one purely consisted of 'bogans' and Nu-Metal but one of genuine hard-working bands filled with a variety of Underground Metal genres.
These lines are relevant for anyone who has tried to defend metal as "art" and not simply a pacifier-cum-adornment for clueless teenagers and burnouts. Even more, it shows the role zines have always had, which is to concentrate information but also to allow powerful personalities to shape the Underground socially and thus inject more clarity of idea.
One other thing that other zine editors might take away from Axiom of the Elite is that its layout, like that of an annual report or professional trade magazine, is consistent. The first page of each band report is black, with the logo up top and a picture; from then on, the content is black-on-white text for enhanced readability. The editors don't mock around with fonts and ornamentation, which makes the zine easier to read.
As the Underground experiences a revival, and the old ways of zines, radio and vinyls are brought back because the newer ways present too much information and thus submerge us in unnecessary possibilities (a process called entropy), zines like Axiom of the Elite emerge in a tastemaking and organizational role and we the fans are better off for it.
Features the following bands of various metal genres from New Zealand, each of which contributed a track to a digital compilation which can be unlocked with the download codes in each zine. You can also stream tracks from these bands at the zine's website, listed below:
Arc of Ascent (Crushing Stoner Doom Metal)
Bloodfvkk (Reckless Grind Metal)
Boltcutter (Dystopian Crust Punk)
Brutal Supremacy (Barbaric Death Metal)
Carnal (Pulverising Brutal Death Metal)
Filthy Lucifer (Feral Crust Black Metal)
Horrendous Disfigurement (Defiling Death Metal)
Malevolence (Legendary Death/Grind Metal)
Orgiastic Rebirth (Ugly, Filthy Brutal Death Metal)
Red Dawn (Ripping Power/Heavy Metal)
Stormforge (Thunderous Power/Heavy Metal)
Trepanation (Apocalyptic War/Grind Metal)
Contact
deusintroclades@gmail.com
http://axiomoftheelite.bandcamp.com/
3 Comments
Tags: axiom of the elite, new zealand, zine