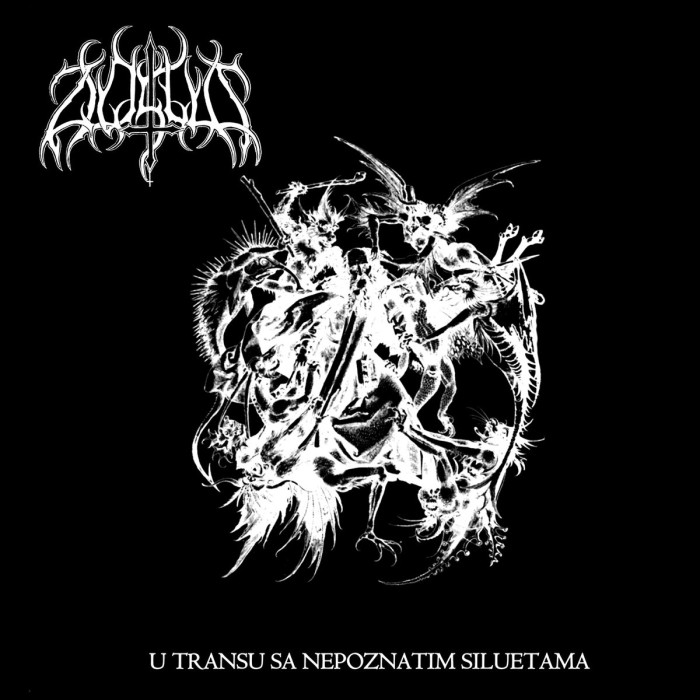 Article by Corey M
Serbian black metal group Zloslut received some well-deserved coverage on DMU in 2013 when they released their first album, Zloslutni Horizont – Donosilac Prokletstva, Očaja I Smrti, in which the musicians demonstrated a humble and patient method of constructing epic songs based around the simplicity of a few chord changes. This method contrasts (pleasantly) with the typical songwriting method of modern black metal bands, which is to hurl rapid-fire oppositional riff pairs at the listener with the intention of disorienting and distracting from the lack of any coherent musical thread. Zloslut's music promises a refreshing return to the minimalist style that the best black metal bands of the early 1990s used to produce memorable and effective songs.
U Transu Sa Nepoznatim Siluetama moves at a familiar pace for the experienced listener, but the albums dynamics are generally so well-balanced that even someone not engaged in black metal would not be offended or confused by the aural layout. The average intensity of the music is nearer to that of In the Glare of Burning Churches than Pure Holocaust, which means that each song has plenty of room to breathe and the listener never feels battered or overwhelmed by density or speed. Songs themselves are built out of a handful of chord cycles that are aesthetically consistent and highly motivational; never does a chord cycle become so stale that you will actually desire its end to relieve boredom, but never is a riff so complex that it blows by and is forgotten for not having been catchy or repeated enough. Each segment of music is paced accordingly and results in each song becoming a miniature journey of sorts, leading the listener along a path through moments of surprise, anger, despair, hatred, and finally toward some appropriate resolution that can't be described in text, only experienced sonically.
Zloslut's success stems from the songwriter's intuitive sense of balance and momentum. When a song picks up speed, the tension increases but is balanced out with slower-moving riffs played with more major intervals. After a song has expended its motivational energy, the guitars drop down and drag the melody through murky valleys of foreboding and loss. I want to be clear that the dynamic balance maintained throughout this album does not mean that the experience is emotionally flat; rather, that every peak is paired with a valley, and every action has an equal and opposite (or, is it complimentary?) reaction. The spacious feel of the album allows for stretches of melancholic introspection like one might find themselves amidst while listening to Vampires of Black Imperial Blood or the more recent When the Light Dies. But don't make the mistake of associating Zloslut with the emo-leaning depressive style that has crept into the black metal canon over the last decade. U Transu Sa Nepoznatim Siluetama is ferocious and concedes nothing, sparks the listener's imagination, and encourages one to seek out and confront the obscure biases and phobias that lurk in the far-flung corners of the psyche.
7 Comments
Tags: 2015, Black Metal, Serbian Black Metal, U Transu Sa Nepoznatim Siluetama, zloslut