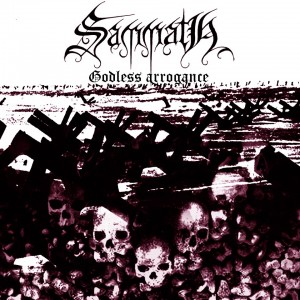 Dutch-German blazing black metal act Sammath, who are preparing to unleash their fifth album, Godless Arrogance, have signed to worldwide metal music label Hammerheart Records for the release of that album.
"I'm getting emails and telephone calls from people all over the world," said Sammath guitarist/composer Jan Kruitwagen on the change that catapults them from a smaller metal label to worldwide distribution on par with Relapse and Nuclear Blast. The band is leaving its label of sixteen years, Folter Records, on amicable terms. "Joerg from Folter was actualy proud as fuck that we got signed to these guys and only wishes us well. It wasn't easy telling him after 16 years on his label, but he understands."
According to Kruitwagen, Hammerheart sought Sammath after hearing the demo tracks from the upcoming album and knowing the band for a long time. "The new tracks will destroy! Guido from Hammerheart knows what's good," he said. Believed by many to be the boldest step of the band's career, Godless Arrogance combines the elegant melodies of Sammath's first album, Strijd, with the aggressive ripping death metal approach of their most popular work, Dodengang.
The band doesn't plan to change a thing about their approach, which is old school technique and composition with an eye toward defiant independence. "We have lots of work left to do. All drums are recorded without triggers and everything is recorded live. Getting this all sounding like we want takes time. We do everything ourselves, no hands but ours will finnish this CD, except Peter Neuber for the master (Necrophobic, Revenge, Severe Torture)," Kruitwagen added.
Godless Arrogance will see release in "a couple of months at least," but will not change its approach. "We need to make sure it all sounds up to mark, without losing the intense sound it already has," said Kruitwagen. He added that despite a changing music industry, the band remains committed to its approach. He added, "let the music speak for itself."
The tracklist for Sammath's Godless Arrogance will be:
1. Shot in mass
2. Fear upon them
3. Thrive in arrogance
4. Death (hunt them down)
5. This world must burn (hammer of supremacy)
6. Through filth and the remains of man
7. Nineteen corpses hang in the mist
3 Comments
Tags: Black Metal, sammath