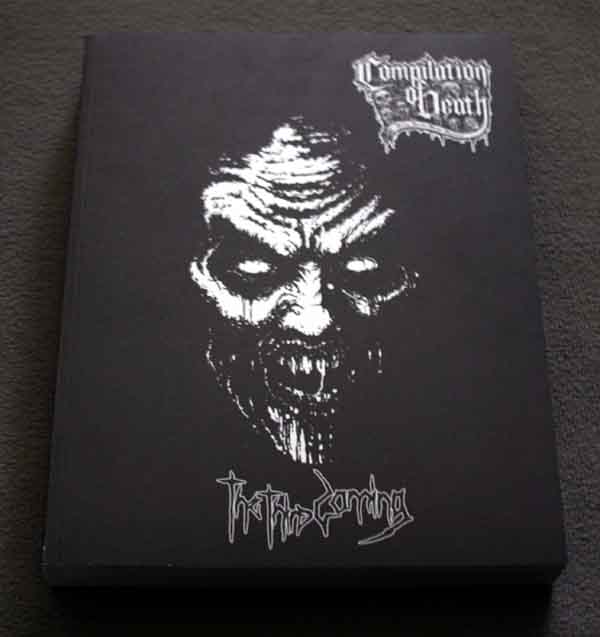 DMU reported recently that Compilation of Death zine has issue three back from the printers and ready to distribute. Like many of you probably were, I was intrigued by the use of the term "zine" to describe what looks like… a book.
In the grand spirit of investigative metal journalism, DMU reached out to Gabriel Andres Gatica Kretschmer, editor of the Compilation of Death. He answered our questions about the new issue and created anticipation of the new issue with his answers.
How many pages are in the new issue? Are all of them illustrated?
Aesthetically this new issue might be seen as a book because of its large number of pages, but this appearance was not premeditated. Independent of the size, we are and we have the essence of a fanzine: Compilation of Death is created by fans for fans. Our new issue has over 390 pages but keeps the spirit and outlook of a xeroxed 'zine. And yes, all of the pages are illustrated!
What bands are in it?
Features

SADISTIC INTENT (in depth special)
Brutal Assassin
Decomposed (Usa)
SINDROME
DREAM DEATH
PHLEBOTOMIZED
Druid Lord
DR SHRINKER
VOID OF VOMITS
EARACHE RECORDS (Interview about the history of the label)
Necroccultus
HEXX
BLOODBATH (Serbia)
SORCERY (Sweden)
AUTOPSY (Fucking big interview)
Nephrite (Norway)
DISSECT
DIABOLIC/HORROR OF HORRORS/UNHOLY GHOST
ENTETY/COFFIN TEXT
AGRESSOR (Fra)
FATAL (Usa)
CIANIDE
THANATOPSIS (Usa)
OBLITERATION (Nor)
BLOODSPILL (Usa)
DEATH THREAT (Usa)
DECEASED
DEATH YELL
ETERNAL DARKNESS
NILE
ROTTREVORE
Embrional (Pol)
NECROWRETCH
ETERNAL SOLSTICE
PENTACLE (Studio Report-Live review by Costa Stoios)
PROFILES
MAGNUS (Pol)
Pages of pure fucking Damnation (Chat with old fanzine editors)
Aaaarrghh Magazine (NZ)
INVOCATOR/MACERATION
GOD VOMIT' Zine
RATTLEHEAD 'ZINE/BLOWING THRASH ZINE
DECIBEL OF DEATH ZINE
THE BOOK OF ARMAGGEDDON'ZINE/ RAGE RECORDS
RAM METAL SECTION (The section of LAURENT RAMADIER)

Interviews

Gino Marino & NOCTURNUS/INCUBUS
MUTILATED (Fra)
EXCRUCIATION (SWI)
INCANTATION

SOME DIE, OTHERS ARE BORN (New section with over 50 new bands)
DARK AWAKENING (Review Section)
Is this all-new content? (I assume so, just verifying)
All the content is new, from our own staff and some guests as collaborators in interviews. But we also have some reprints of old interviews from old fanzines.
How is this different from past COD issues?
I think the essence is the same, we just have more pages, therefore, more interviews and articles. We also add a new section with more than 50 upcoming bands where you may learn the basic and essential information about bands who have only been around for a few years and have few releases. We continue with an in-depth special about the history of a band; last issue this was IMMOLATION and in this new edition is been SADISTIC INTENT.
Where can people get this, and about how much will it cost?
HELLSHEADBANGERS from USA is our official distributor; they were responsible for printing our new issue. Some labels in Europe like APOCALYPTIC EMPIRE, IRON BONEHEAD, THE SINISTER FLAME, UNHOLY PROPHECY, TERROR FROM HELL, MEMENTO MORI, WITCHCRAFT 'ZINE, etc. are distributing our new issue as well. All who are interested in distributing our new issue should contact HELLSHEADBANGERS Records directly and ask for wholesale pricing.
Can you tell us a bit about your background in metal, in writing and in zine publishing? What are you listening to now?
Previously I edited a fanzine called Brutal Passion in Chile, it was something generic, nothing new, you could find the same in other 100 fanzines. I'm a crazy fanzine collector and I decided to do something different and create Compilation of Death zine as a tribute to the old fanzines and focused on the development, history and continuity of a style like death metal and its closest branches.
I see Compilation of Death as a link between the forgotten and the present time… I listen to many things depending on my mood, but these days, the new album of ZEMIAL, OPHIS, DEAD CONGREGATION, DOMAINS, DROWNED, GORGUTS, HAEMOPHAGUS, RUDE, ATARAXY, DISMA, BEYOND, SHEOL, INCANTATION, RIPPER (CHILE), U. KULTEN, PROCESSION, etc… I listen to almost all styles of metal, especially a lot of death metal and heavy metal. My favorite band since I was a child is RUNNING WILD for example…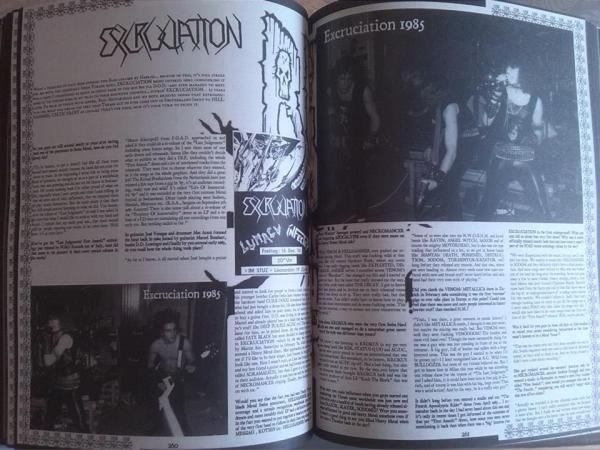 2 Comments
Tags: compilation of death, death metal, gabriel andres gatica kretschmer, zine