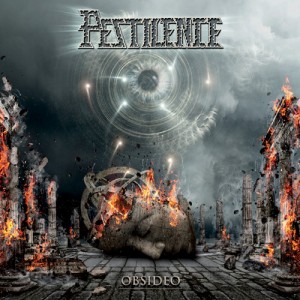 Dutch death metal band Pestilence confirm that they will release their latest album, Onsideo, through Candlelight Records on 11th in North America. Produced by vocalist/guitarist Patrick Mameli, the album is the band's first recording for the label and first new material from the four-piece since 2011.
Obsideo sees Pestilence as a four piece, with guitarist/vocalist Patrick Mameli joining original guitarist Patrick Uterwijk, bassist George Maier and drummer Dave Haley to create a technical and aggressive sound. "We have gone beyond our human limits to achieve the highest form of brutal music," said Mameli, who claimed the album consisted of "ten of the most demanding songs written in death metal."
Following a lengthy absence, Pestilence resurrected itself in 2009 with Resurrection Macabre. Since then the band has toured and explored options for its new sound, which incorporates eight-string guitars and modern metal influences into its classic death metal sound.
Consuming Impulse, the band's 1989 release, remains a highwater mark for death metal for its intricate assembly and integration of complex riffs and multiple themes. Since that time, the band has drifted toward more socially-acceptable forms of technical music.
Obsideo Track-Listing:
Obsideo
Displaced
Aura Negative
NecroMorph
Laniatus
Distress
Soulrot
Saturation
Transition
Superconscious
http://www.youtube.com/watch?v=r3GO66yX488
9 Comments
Tags: death metal, modern metal, pestilence