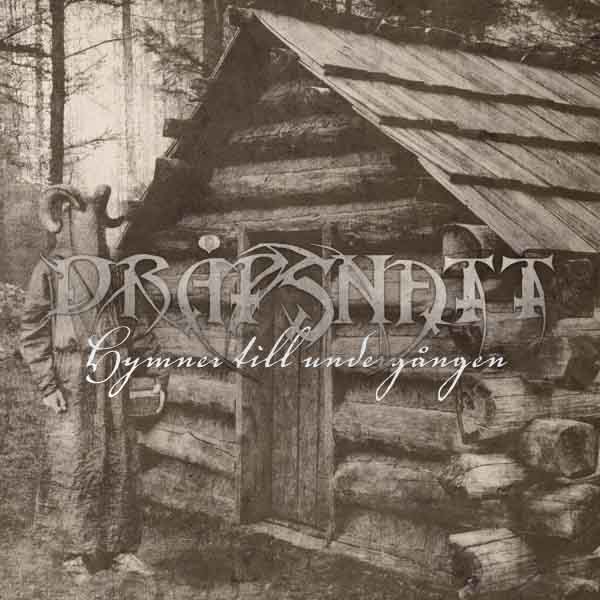 Hymner till undergången just misses being the black metal revivalist album that most fans hope for. Combining the low-fi approach of Ulver with the aesthetics of Windir, Dråpsnatt crafts black metal in the style we might have expected 1996-1998 from a band taking influences from the third wave of bands who broke from the past musically but not aesthetically. As a result, much of this album focuses on open harmonies over which keyboards and guitars interplay to create a sense of a busy but peaceful forest scene.
Where this album falls short — without considering whether this style is great or not — is that many of these phrases are too symmetrical or otherwise evident to provide for enduring listening. In addition, much like Ulver or later Enslaved, this band wants to become Pink Floyd, not Darkthrone or Mayhem. What emerges instead are very spacy jams where extremely obvious simple melodic death metal riffs introduce longer space-rock songs based around three notes, which means that the band repeats itself to achieve atmosphere and then goes crazy with a solo or extended bridge. As the album goes on, it becomes more atmospheric, which is a cool deepening effect sort of like the divergence from society in Journey to the End of the Night. The heavy use of keyboards allows some distraction from the pure drone but this often forces the keyboards into the role of lead instrument for extended passages, which quickly begins to approximate the kind of music they play near fountains in malls.
Much of Hymner till undergången gratifies the old-school metalhead, if that person can filter out the exuberant and sentimental clean vocals, the extended open-strum mood pieces, and the symmetrical paint-by-numbers riffing. Clearly this album gets closer on an aesthetic level than almost anything else recently, in part by understanding how to pace vocals and guitars at offset to avoid the modern metal sound and develop depth. It possesses a familiar texture and rhythm, develops about at the pace a black metal fan would expect, and delivers roughly the right moods. It is unlikely to sustain repeated listens in the way the classics of this genre did, and the transition to atmospheric rock halfway through makes it an unpleasant reminder of the fate of all good, hard and valid music in a world that seeks flattery for the consumer instead.
http://www.youtube.com/watch?v=7XTS_aIlZSQ
1 Comment
Tags: black rock, dråpsnatt