Eras are relative. Most people, if they are lucky, will live about three-quarters of a century and in that time they usually come to believe that the goals and standards of their time were superior to those that followed. Sometimes this is a belief that is fueled by idealized perceptions, particularly in the case of the Baby Boomers, but other times it is a truth that cannot be ignored no matter how much denial we heap upon it.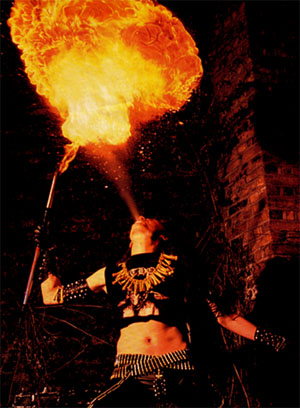 My era is the rise of metal as a viable art form, circa 1985. Some will snort and cite the ilk of Motley Crue and Ratt as a case against any artistic content in this music. My response is that those bands were not metal bands, not in the way I think of them. The difference is that nobody who cared about those bands then still truly cares about them now. Fans of yore catch a glimpse of an entertainment news segment that features a bloated Vince Neill loping across and arena stage, and there is no sense of pathos, no sense of glory days gone by, no sense that an era is at an end.
Some months ago, I had the opportunity to briefly meet a legend. He had been in music since the late 1970s, and every band he had created was successful and made a significant mark upon the genre. True, he was aging and weighed more than he should, and the hair dye and concealer was obvious up close, but he was a legend nonetheless. I was always a fan of his work and it was exciting to finally meet him, but seeing him in that time and place struck me in a way that I never expected. It made me sad. This is not because someone I admired was showing his age, or that he presented badly. On the contrary, I was pleased to find that he was gracious and friendly. It was when he walked on to the waiting shuttle van that I felt like I was watching him disappear forever, that he was the last of a breed that was about to go extinct. He was a "big name," one who had survived many trends and industry coups, but he still had everything in common with those who made their marks in smaller but equally indelible ways.
Metal music, especially in its most extreme quarters, is about death worship or more often a cynical acceptance of this inevitability. Why, then, are the losses in recent years so poignant to so many of us? Why is it harder than it should be to see people like Quorthon and Piggy go to the soil, even though their most important contributions were already years behind them? The answer is simpler than any of us might realize: these passings are not part of a cycle. They are glaring red flags that indicate a clear termination point that is definitely closer than we want to acknowledge. Metal is an art form that has suffered diminishing returns for over a decade, and the deaths of its pioneers are painful in the face of knowing that they will not be replaced. Even now I feel that there are still new bands worth hearing, new albums worth acquiring, but I cannot lie to myself and believe that the current output is every bit as valuable as ones from "the good ol' days."
This is where I claim my era. Many neophyte fans of metal are confused when anyone over thirty decries the current crop of mediocre glut, because they were not there when the best albums were released. They cannot understand that there was a time when damn near every release that hit the shelf at the local record store was something special, something that would be cherished and revered for decades to come. It is useless to live in the past, but the beauty of music is that when played it is always in the present whether it was written 1808 or 1988. To know this allows me to revisit, revere, and remember, as much or as often as I choose. It allows me to look at where metal is now and attach it to that legacy without dismay or bitterness.
In the last few years, I have avidly acquired many of the pieces that I could not readily afford when they were first released as I was but a child. I have a room in my home that houses these gems, a room where they are allowed to rage forth and be ageless again and again. But despite the best moments when I am in the thrall of a favorite work, it is hard to not feel heaviness in my heart and know that an era, my era, is nearing its end. My role, and the role of those who preserve those days as I do, is to refuse to forget but also to accept that things will never be the same. As the years drift by we will see the passing of more heroes and innovators and the best thing we can do is bow our heads for a moment, take their records from the shelf, play them at maximum volume, and remember our era once more.
by David Anzalone
No Comments