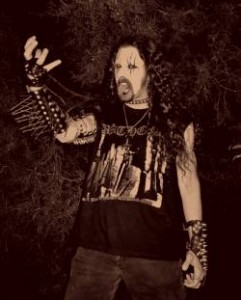 When black metal became in popular perception "the next big thing", around 1992, it was rightly considered an European phenomenon which contained a cultural bias based on tradition, arts and society impossible to spiritually clone in the American way of life, even in the underground which had spawned death metal. Bands like Profanatica and VON showed that it is possible to create the blasphemy spewing minimalistic barbaro-black metal in USA as well as anywhere else, but the Romanticist type of black metal bands from USA were for a decade, if not more, the laughing stock of even American BM maniacs themselves. There was something wholeheartedly absurd about Sumerian sorcerers from Texas, druids from Minnesota and vampires from California. David "Blackmoon" Parland of the insipid Dark Funeral waged verbal war in zines against Proscriptor of Absu, who cast curses and spells in return. Judas Iscariot printed Nietzschean statements in German and moustached overweight pro-wrestling fans took pictures of themselves corpsepainted in suburban woods. Whereas musical quality grew through the times, so did the amount of excess people circulating in the American BM underground, leading to the explosion of "bedroom black metal" in the turn of the millennium, while black metal messageboards became populated with people whose IQ would be statistically rather rare in Norway and Sweden.
The dilemma seems to lie in the artificial distance between the sophisticated intellectual and man of the street which characterizes also the separation between the art and entertainment of 20th century America. Whereas the Oslo or Bergen black metaller would have been raised with equal awareness of Ibsen's plays, American movies and classical music as well as punk, the US black metaller often came from the background of very little cultural perception besides TV, baseball, horror movies and aggressive competitive values. The obsession with social standing is such that looking or behaving different would easily be seen as gay or the sign of a wimp or nerd, but what fan of black metal would want to represent normality in every piece of action? Scandinavian, Austrian or even Polish metalhead did not and does not share this pressure of having to be a regular conservative guy because there are more different roles and stereotypes available in the society to identify with. Thus most of the US youth involved in black metal came to view themselves as either depressive, perverted losers or occult maniacs oriented to conjure the otherworld dressed in robes and armed with litanies of every available ancient magick tradition and spellcasting culture.
As case studies, take for example Crimson Moon from San Diego and Night Conquers Day from New York. Both are bands with respectable instrumental skill, dedication to the black metal arts beyond the normal "scene kid" wannabe interest and an intuitive grasp of the Romantic and Faustian in black metal. Yet, both are bands hard to take seriously at face value, because there is so much absurdity, alienation from reality and bad aesthetic choices involved. Crimson Moon presented themselves as a magical collective of energy vampires but the music was often a too simplistic rip off of influences from Cradle of Filth to Ancient, damaging the beauty, while their reputation suffered a blow from public arguments on online messageboards not at all fitting for the sorceric image – even splitting the band in two factions, Gorgoroth-style. Night Conquers Day posed in full daylight near a storage building with one of the members wearing corpsepaint (and the infamous moustache!) and the personal history of the members included getting into headlines for stealing gravestones and a keyboard player who disappeared but returns now and then to play a piece over the phone (I think I would go that way too if I had to live in the American society) and the 10-15 minute epic songs quoting several eras of metal from Mercyful Fate to Burzum remained unmemorable because of sounding like too many parts had been stitched together with no spiritual theme arching to wrap up its diverse aspects into a continuous whole.
Written by Devamitra
1 Comment
Tags: black 'n roll, Black Metal, USBM, zine-articles