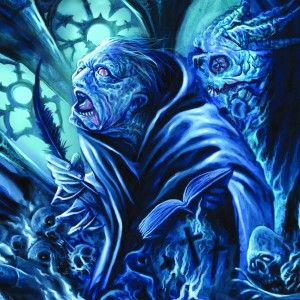 The worst reviews are the ones that say a band is right in the middle: "They do a few things well, but there's not really some unifying theme, so this album is great if you're a huge fan of those things they do well."
A better review reflects conflict. This is one of those reviews. Dear Ruins of Beverast: you have potential, but you need to edit your material. In a huge way. In such a huge way that I don't think most people will finish listening to this album. And change the name. What's wrong with "Beverast" instead of a sentence-band name?
Many of the ideas on this are great. However, they're spaced out with filler that amounts to repetition of some very tired ideas. Further, this allows this one-man band to gimmick its way through, so instead of carefully composed songs we get extended interludes that do nothing but dilute the mood. When The Ruins of Beverast decide to shred, the result is bare-bones riffs that build up to a climax.
After that, confusion reigns, so this composer avoids that point. That in itself is a mistake. Building to a peak requires a snowballing of intensity, and that produces the type of dynamic change that made black metal so much fun. But after that, what must be done — as in any Tolkienesque journey — is to Romanticize the quest and then contrast the end result to the inception.
If songs don't lead to a path that shows a clear growth process, they become circular. With circularity, the conclusions resemble the precepts. That means that we're hearing sheer atmosphere pieces with no actual development, since any "development" that is created doesn't uncover a mystery or lead to new heights, but plunges back into itself.
This composer is afraid of his own work. When he writes a good riff, it takes him to some point where he must go somewhere with it, and that freaks him out. What's there? It might just be darkness. But in the darkness he does not see romance, only permanence. So he goes back to gimmicks with chanting, distorted voices, interludes, etc. It strips him of his own strengths.
If someone took the twenty minutes of promising material from Blood Vaults and arranged it with some verve, the result would be three to four very powerful songs. Instead we have an extended detour into pointlessness that sacrifices the best abilities of this songwriter to his worst fears.
5 Comments
Tags: Black Metal, blood vaults, Doom Metal, review, the ruins of beverast