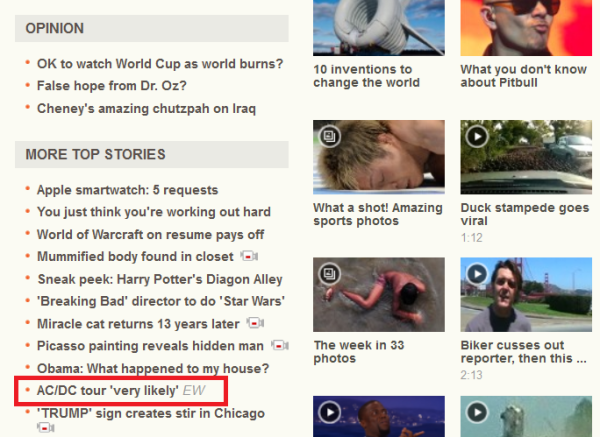 Anyone who lived as a metal fan in the 1970s and 1980s remembers The Line: some bands were rock enough to make it into the newspaper, others were "too metal." Major newspapers never covered Slayer, rarely covered Metallica, and generally drew The Line at anything heavier than Guns 'n Roses. Thus even major bands like AC/DC got cut out of the mix.
No more. As the image above illustrates, the front page of goody-two-shoes news network CNN shows us the latest about the AC/DC 40th Anniversary Tour. Even the biggest megaphone for mainstream news which spends most of its time nagging us about our bad habits or flashing sensationalistic messages of world decay finally acknowledges heavy metal. In the 1980s, this would have been unthinkable. And yet, now we're here.
What's behind metal's legitimization? It's not so underground anymore, being one of the bigger non-rock/pop genres. It's also not so extreme, since rap opened up the lyrical gates to violence, lust and obscenity and nu-metal got radio accustomed to heavy crunch (and lyrics about parental neglect). But most importantly, metal is now an industry. With enough consistent fans and labels behind it, and those labels having found a way to "metalize" or "metal-flavor" just about anything (indie, rock, jazz, blues, industrial), metal now provides one of the pillars of the entertainment industry.
Even more, heavy metal is now a recognized part of our culture. Rap music represents a certain kind of rebellion or a certain kind of irony. Heavy metal raises the flag for a certain kind of rebellion that is both cluelessly adolescent and "old soul" world-weary and informed. It's a feeling we all have, and its appeal seems to be increasing.
7 Comments
Tags: ac/dc, Heavy Metal, industry, legitimization, nu-metal, rap/hip-hop