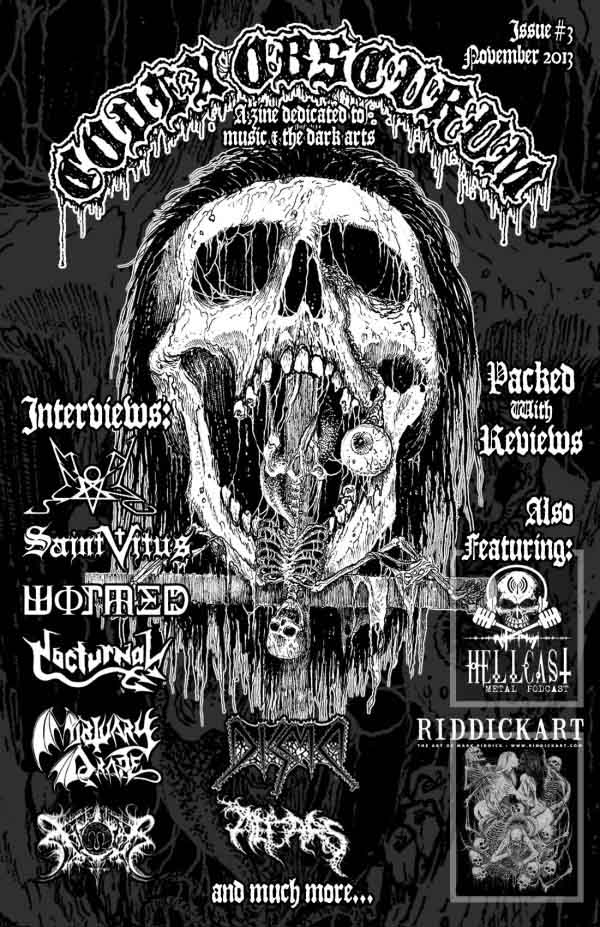 The third edition of contemporary old school print zine Codex Obscurum brings vast improvements to this already-promising zine. Under the guidance of editor Kevin Ord, Codex Obscurum has improved its readability, positioned its content for an in-depth view of the metal scene, become more consistent about its most important sections and added experimental content that expands what we think of metal zines.
The first thing a reader will notice is that readability is improved. This refers to the visual appearance of the text and how easy it is on our eyes. Since the 1980s, computer and printer technology for the average person have improved (all of this cool stuff was available then, you just couldn't afford it). As a result, backgrounds and gradients are more likely to be used, as are complex fonts. The problem with that is that when the result is put out through a Xerox-like format, these fancy things can blur together or create contrast differences that apply torque to human optic nerves. This time around, the Codex Obscurum guys dialed back the fonts and went for more computer-y fonts on lighter backgrounds. Their best format remains the one they used for the Summoning, Disma and Nocturnal Deathstrike Records interviews, which is a white page with a border of hand-drawn art. Of course, this is the most expensive to create because it requires a human artist, but I wish the whole zine could be this way. It's a killer look that is both like the old school and takes advantage of newer layout abilities. I also don't mind if the whole zine is in Times New Roman and a good sans-serif font. That being said, however, readability is massively improved here and layouts mentioned above are positively gorgeous. It reminds me of the best of the 1980s zines that always seemed like little art books.
In terms of content, Codex Obscurum was never a slouch. Previous issues included high profile acts like Incantation, Skepticism, Morpheus Descends and Rozz Williams. Issue #3 has chats with Saint Vitus, Mortuary Drape, Disma and Summoning among others, raising the Codex Obscurum profile even further. The zine has also stabilized its organization so that the vital content is present and in the roughly expected proportions. There are more record reviews and a solid block of interviews framed by show reports and features. In particular, having a big block of record reviews at the end is useful for the person who picks up a zine to figure out "what's happening" in the metal world and might have a few minutes to scan for something fun to buy at the end of a long work-week. This "feels" more solid as a zine since the relevant content keeps coming and there's no filler, with firm boundaries between sections such that none of them seem to be second-class citizens. In addition, Codex Obscurum has added experimental content in the form of stories and reflections. While some of this was indicated in the past, such as the surreal and passionate tribute to Slayer's Jeff Hanneman from the second issue, here there's a crossover more like a bleed-in from a literary zine or chapbook. The result helps the end of the zine not trail off, but offer solid content of variegated types consistently throughout.
The result of all of the above is that the third issue of Codex Obscurum shows this zine picking up where the past left off, and going further. Not only that but it does so with high quality and in a way that gives this zine its own personality and brand. I'm looking forward to seeing more from Codex Obscurum as it races forward into the future …of the past.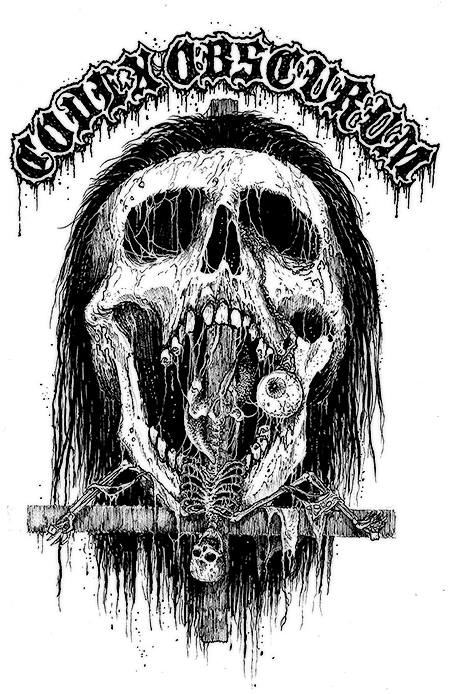 No Comments
Tags: codex obscurum, metal, metal zines, zine